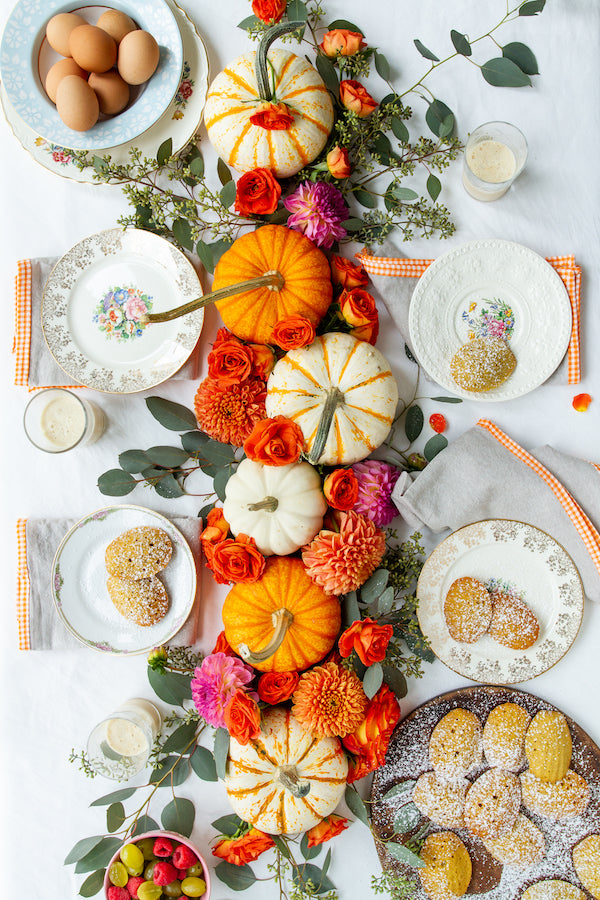 There's just something about wee pumpkins -they just can't help but make you smile. This year, instead of taking an autumnal tack to decorating a pumpkin clad table, I'm going gourd-damn technicolor chic!
Here's what to do. 
For the Centerpiece: Choose as many small "common" (read grocery store here) varieties of pumpkins needed for your table size -mini pie pumpkins, tiger strip pumpkins and mini white pumpkins (also called ghost pumpkins for their casper white flesh). Artfully arrange the wee beauties in a pumpkin patch down the center of your table, or group together if you prefer dining in the round. Try to use pumpkins of different shapes and sizes and point their stems in different directions. Next, accent your collection of pumpkins with a variety of garden blooms from your local flower market such as sherbet-hued dahlias, roses or bittersweet vines; or store-bought blooms such as rover mums or gerber daisies. Finish with a pop of greenery, like seeded eucalyptus or herbs from your garden.


For the Place Settings: Mix and match your best china, or take your favorites down from off the wall, and accent each place setting with a French Picnic Linen Napkin in orange gingham. These impeccably crafted 100% linen napkins are absorbent, abundant in size and become softer and more absorbent after each wash. Remember, the china can be chipped, but the napkins should never be stained! 
What to Serve: Try something new! Invite your friends over for an afternoon pumpkin-inspired treat. For this little get together with three of my dearest francophile girlfriends, I made Pumpkin Spice Madeleines. Not quite a cookie and not quite a cake, the madeleine is the perfect afternoon sweet. Or roll up a Spiced Pumpkin Roll. They aren't as hard to do as you may think and enough powdered sugar will hide any flaws. For side sipping, make a batch of Bermudan Eggnog instead of the expected coffee or tea (and make enough to send a small bottle home with each of your friends). 
"When you make a gathering special and unexpected, the message it sends to your guests is YOU are special to me." -Libbie Summers
Bonus Pro Tips:
Small pumpkins can easily be made into a votive or taper candle holder with an apple corer and a steady hand.
Never throw away the seeds! Pumpkin seeds, or pepitas, can be used in a variety of ways. They add crunch to a citrus salad, garnish my favorite pumpkin soup, or can be made into brittle to adorn this cake from my second cookbook, Sweet & Vicious.