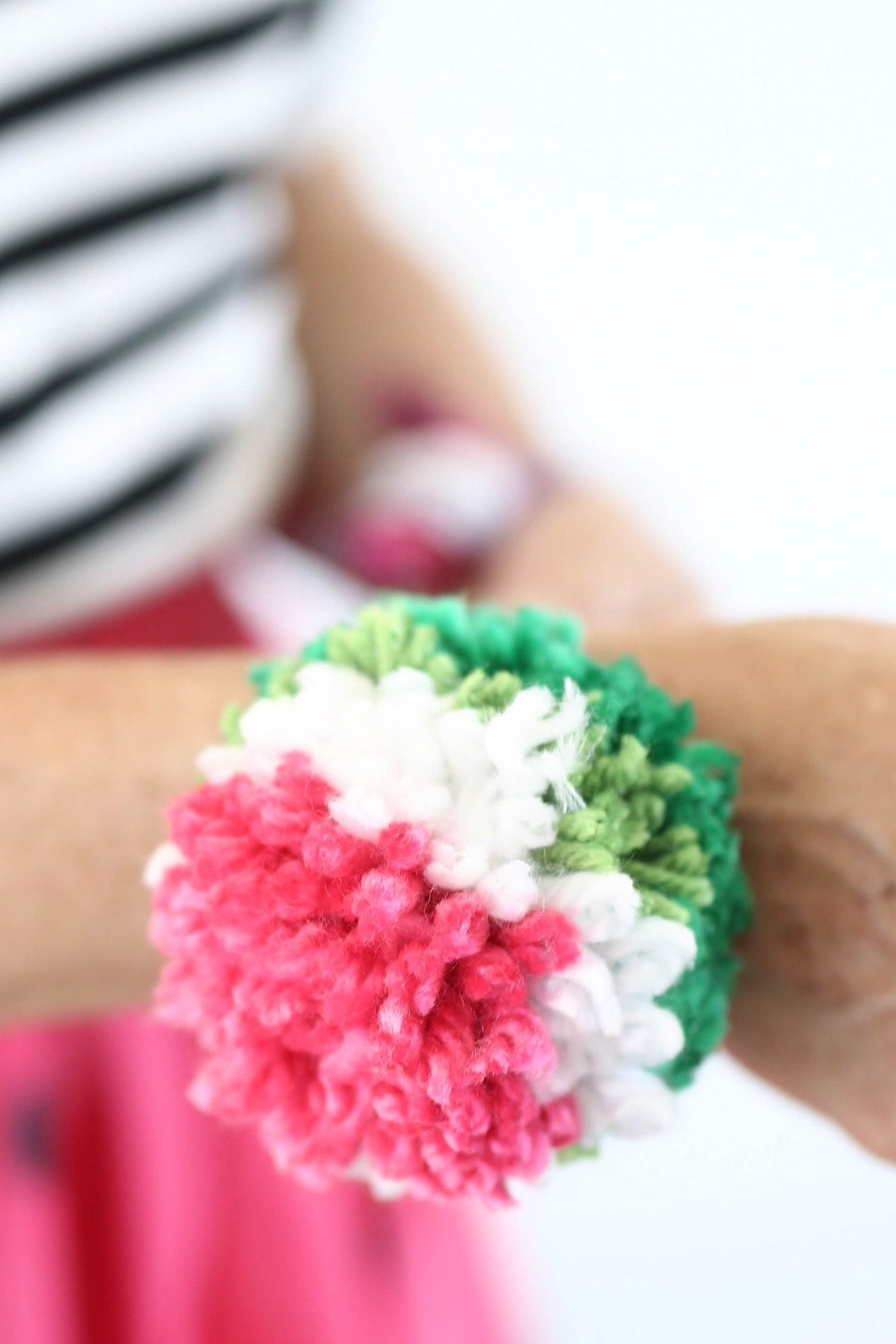 ENDLESS POM POM POSSIBILITIES --TIE AROUND A FESTIVE NAPKIN FOR A FUN WATERMELON-INSPIRED DINNER PARTY, ELEVATE YOUR SUMMER GIFT WRAPPING OR TIE MULTIPLES TOGETHER FOR A DELICIOUS GARLAND (I LIKE TO RUN THE GARLAND DOWN THE CENTER OF A DINNER TABLE). TRUTH BE TOLD, I LIKE THE POM POMS BEST USED AS A LIVELY "CORSAGE". I'VE BEEN KNOWN TO TIE ONE ON EVERY GUEST WHO WALKS THROUGH MY DOOR (HUMAN OR CANINE). THIS LITTLE POM POM ACT OF ATTENTION HELPS MAKE A GATHERING SPECIAL AND THE MESSAGE IT SENDS TO MY GUESTS IS "YOU ARE SPECIAL TO ME."
POM POM CORSAGE
(MAKES 1)
 
WHAT YOU NEED:
SCISSORS
YOUR HANDS
A GREAT YARN IN: WHITE, PINK, DARK GREEN, LIGHT GREEN
 
WHAT TO DO:
1. START WITH DARK GREEN: LAY THE DARK GREEN YARN ACROSS THE INSIDE OF YOUR OPEN PALM (BETWEEN THE BASE OF YOUR THUMB AND THE BASE OF YOUR FINGERS) AND WRAP IT AROUND YOUR HAND ROUGHLY 15 TIMES. CUT THE TAIL OF THE DARK GREEN YARN
2. LAYER LIGHT GREEN YARN: LEAVING THE DARK GREEN, ADD LIGHT GREEN TO YOUR PALM IN THE SAME FASHION AND WRAP 15 TIMES. CUT THE LIGHT GREEN YARN.
3. LAYER WHITE YARN: LEAVING ALL THIS ON YOUR HAND, ADD IN THE WHITE YARN AND WRAP 10-15 TIMES. CUT THE WHITE YARN.
4. LAYER PINK YARN: LEAVING ALL THIS ON YOUR HAND, ADD IN THE PINK YARN AND WRAP 20-30 TIMES. CUT THE PINK YARN.
5. REMOVE LOOPS: CAREFULLY SLIDE THE LOOPS OFF OF YOUR PALM KEEPING THEM AS CLOSE TO THEIR SHAPE AS POSSIBLE.
6. MAKE A "BOWTIE": PINCH THE YARN LOOP SO THAT IT LOOKS LIKE A BOWTIE. 
7. TIE OFF THE LOOPS: USING A PIECE OF PINK YARN ABOUT 8" LONG, TIE IN THE CENTER AS TIGHTLY AS YOU CAN. (THE TIGHTER THE BETTER!)
8. SNIP THE ENDS: CUT THE ENDS SO THAT THE LOOPS TO BEGIN TO FORM YOUR POM POM.
9. HAIRCUT TIME: GIVE YOUR POM POM A TRIM TO MAKE IT AS UNIFORM AS YOU'D LIKE. 
 
VOILA! 
READY TO BE THE DETAIL EVERYONE REMEMBERS.