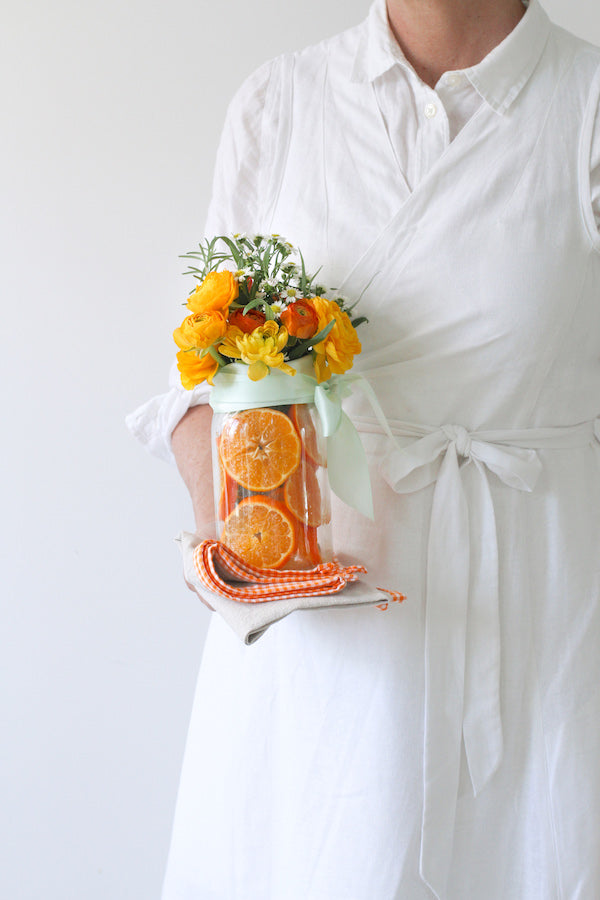 Packed with charm and color this simple citrus-inspired centerpiece is one that anyone can do and everyone will admire. 

Sliced Orange Centerpiece

What you need: 
1 (quart) clear glass jar 
1 smaller clear glass jar or drinking glass that fits snuggly inside the other jar
1-2 oranges, sliced
1 small bunch of citrus colored flowers and greens (grocery store finds are great here)
Ribbon
What to do: 
•Place the smaller jar in the center of the larger jar (opening side up). 
•Fill the small jar with water. 
•Arrange the orange slices in the space between the two glass jars. 
•Fill the larger jar with cold water to suspend the oranges.  
•Arrange the bunch of flowers and place in the water filled smaller jar. 
•Tie ribbon around the mouth of the large jar. 

Shop the SCENE: 
Apron Dress: Cuisine Apron Dress in White Linen
Napkin: French Picnic Napkin in Orange Gingham or French Picnic Napkin in Yellow Gingham