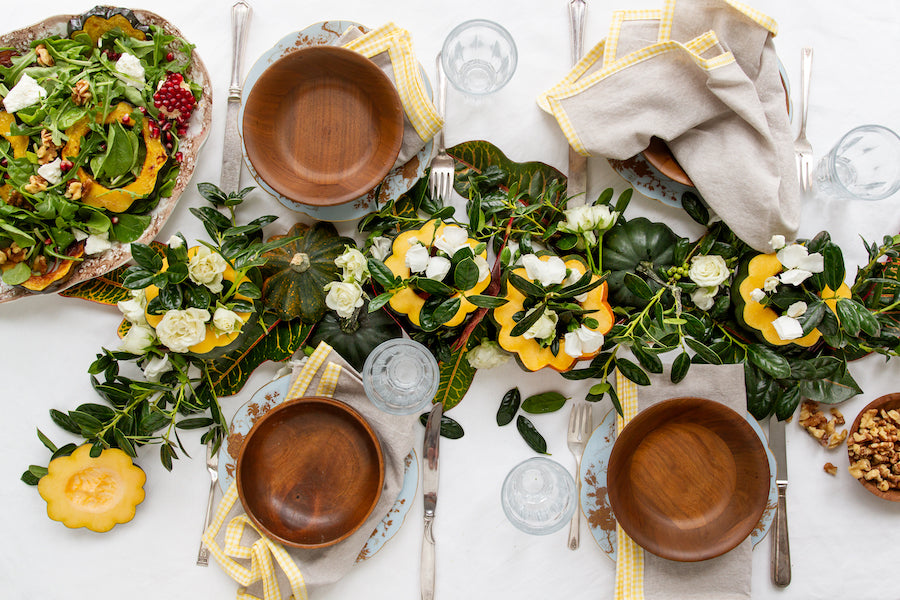 No respectful Thanksgiving menu should be without seasonal vegetables. It's our  thinking that what we are cooking up to nourish our bodies can also be used to nourish our minds and spirit with its beauty. Take inspiration from the produce section of your local grocery store or favorite farmer's market this holiday season for easy autumnal table decorations.  
Here's what to do: 

For the Centerpiece (above): For an easy floral vase, use a sharp knife to cut the top off an acorn squash. Scoop out the seeds and set aside (to be roasted for a snack). Trim the bottom of the squash so it sits flat on the table. Fill the cavity with a touch of water and arrange greenery and cream colored blooms in the cavity to highlight the deep green skin and the bright golden flesh. We cut variegated leaves and holly cut from the yard to tuck into these gourdgeous (see how we did that) vases. PRO TIP: Always use the tops of your acorn squash to complete the centerpiece. Tuck them in right side up and upside down. There's just something playful about these little vegetable berets! 


For the Place Setting: Antique French china plates were used as chargers and a fun juxtaposition with the wooden salad bowls. Mix and match silver flatware always works, but the real fun is in the napkin. We used a playful and chic French picnic napkin in yellow gingham for a pop of joy. Our linen gingham picnic napkins are also available in orange, pink, blue and yachtie. 




For the Recipe: Roasted rings of acorn squash pair with organic greens and salty feta cheese for a show-stopping salad with a honey lemon dressing.

PRO TIPS: 
•Almost every variety of winter squash can be carved or used as a serving bowl for soup or salad. Ornamental squash varieties like kabocha or turban can be roasted and pureed into soups or mashed for a quick, easy side dish.
•Delicata squash and red kauri squash have thin skin that is edible after roasting. Green acorn, sweet dumpling and carnival squash varieties all have sweet, nutty flavor when stuffed, roasted or baked. 

Recipe by Libbie Summers