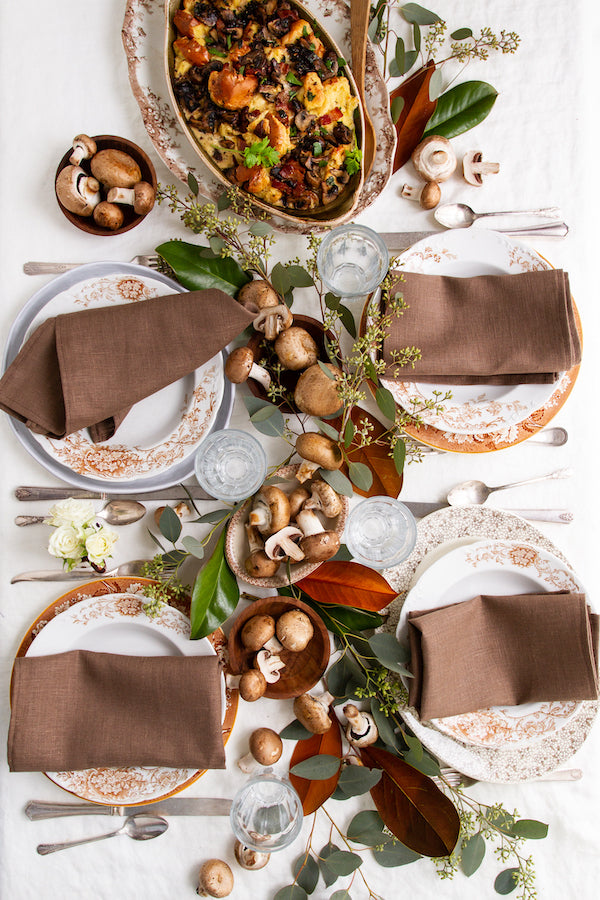 Home for the holidays means embracing the old and making it new with your personal touch. It's about mixing and matching -Antique mixed and matched dishes and flatware paired with chic modern napkins. A vintage top worn under a classic apron dress. We encourage you to be inspired by the bounty on your table. A simple mushroom can inspire an event. 

Here's what to do: 
For the Centerpiece (above): Choose as many small wooden bowls or antique cups as the size of your table and run them down the center. Fill the bowls with clusters of mushrooms of different colors and textures (use whatever you can find...forage in the wild or the wilds of your local produce section). Be sure to cut some mushrooms in half to expose their inner beauty. Next, for texture and organic fragrance, tuck magnolia leaves (the velvet brown underside is perfect), seeded eucalyptus and even a small white cluster rose or two around the mushrooms and bowls. Simple, stunning and food-inspired. 

For the Place Settings: Mixed and matched china and silver will never go out of style. For this table, we used a mixture of brown transferware and other brown vintage china (all picked up at antiques markets). The star of the place settings is the modern brown linen napkins -the NEW Shiitake Brown Linen Napkin Set from LIBBIE SUMMERS label. These100% linen napkin sets are 18"x18" and feature double fold finished seams and are impeccably sewn here in the USA. These handmade table linens are a tribute to the rich, chic color of the shiitake and the idea of bringing new delicious life to each meal you make. Our linen napkin sets are also available in Pink, Pewter, Charcoal and Sand. 
What to Serve: Try something new this holiday. Switch out your stuffing or dressing for this creamy, organic, salty and just a little sweet Savory Mushroom and Bacon Bread Pudding. You may never make stuffing again.  
Bonus Pro Tips: Mushrooms are best cleaned using a damp washcloth or clean paper towel to wipe away any dirt. Never submerge in water.


What to wear (top to bottom): The ultimate kitchen to street fashion pieces that are perfect for everyday and holiday entertaining- when you don't have time to worry about what to wear. 
•The Atelier Apron Dress is the ultimate in hostess chic. 4.5 yards of the most delicious black linen go into each handmade piece. 
•The Cuisine Apron Wrap Dress is a go to classic. Our best selling and most talked about piece in the collection. An exquisite work apron wrap dress that easily transitions from kitchen to street. Shown in black linen, also available in Indigo Chambray and White. 
•The Hostess Apron is a flirty flowy TA-DAH apron. The LBD of hostess aprons. The one you wear when you are setting the table and want to feel beautiful while doing it. Shown in black linen, also available in Floral, Herb and our NEW Twilight Blue Gingham. 
Shop the collection HERE. Each delicious piece is impeccably designed and made in the USA by intriguing women. 

Other Food-inspired Entertaining Stories To Get Your Creative Juices Flowing: 
•Food-inspired Entertaining (pumpkins)
•Food-inspired Entertaining (chive blossoms and lavender pumpkins)