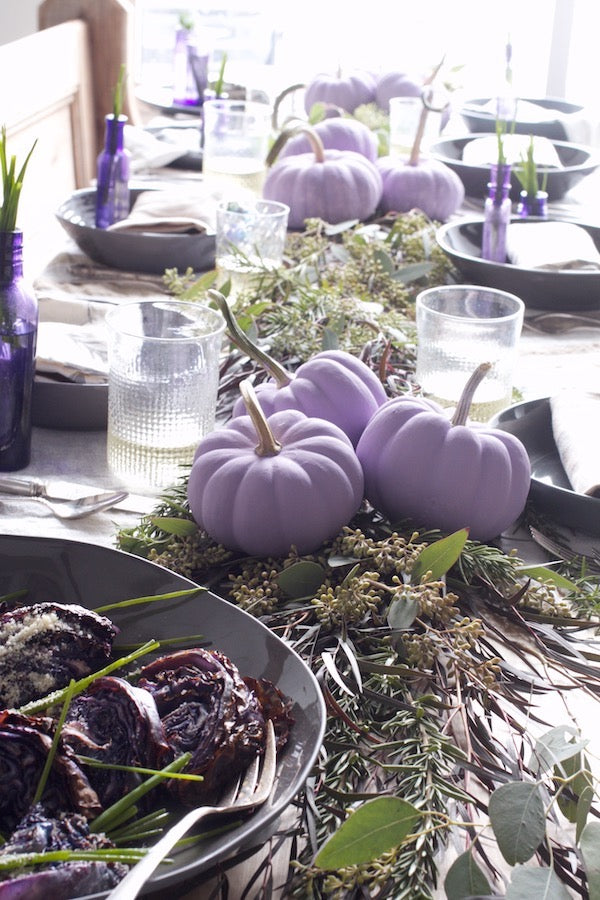 At Libbie Summers label, decor and design is nearly always food-inspired. This Thanksgiving table is no exception. When a chive blossom met a petite pumpkin...magic happened.
Here's what to do: 

For the Centerpiece: Start by covering your table with layers of fabric. We used blanket throws but any yardage of fabric or layered tablecloths would work. Just remember to make it textural. A woven fabric (never perfect) is best. Next we added a nice layer of fresh rosemary and seeded eucalyptus down the middle of the table. We love seeded eucalyptus because it's earthy scent doesn't compete with the food (never compete with the food) and it's an affordable and beautiful alternative to other greens or flowers. Next, add an odd number of lavender painted small pumpkins to the exact center of the table (nestled in the eucalyptus). 


Next, depending on the size of your table, add more pumpkins to the table. If you work out from the center on either side at equal distance you'll be a professional! Add more of the rosemary and seeded eucalyptus to fill in any gaps. 



For the Place Settings: This is where you can really have some fun. We took a few of our sand colored napkins and stamped them with fabric ink in fun patterns like chive blossoms and antlers. We also left a few just as God intended them. Follow the directions on the package for fabric ink and your napkins won't fade or run. The table is equally as beautiful without stamping your linen. We used a mix of grey plates and bowls for this table, but it would be equally as lovely with a mixture of vintage china. The napkins were folded and placed in the center of the plates. Modest glassware and a mixture of vintage silver flatware were placed accordingly. For more color and a nod to the food inspiration, vintage purple medicine bottles were used as chic chive vases and placed at each setting (use a silver marker to write your guests name on the bottles for a fun place card idea). 



Let the beauty of food inspire your next soiree. Mix and match your china, glassware and flatware. Make your centerpiece colorful and organic. Use beautiful linens. Layer your fabrics. Add texture. Feel beautiful while you are creating. Add a delicious and unique side dish to the table that nods to your inspiration like Charred Purple Cabbage with Parmesan and Chives. Most importantly...have fun. No one knows what you didn't get done. 



SHOP THE SCENE: 
Sand Linen Napkin Set
Chamber Apron in Lilac 

NEED RECIPE INSPIRATION? THESE AWARD WINNING COOKBOOKS ARE LOADED WITH THEM...and make a great gift. Just ask for personalization when you check out. 
The Whole Hog Cookbook (Rizzoli)
Sweet and Vicious -baking with attitude (Rizzoli)
Brown Sugar (Shortstack Editions) (this one makes a GREAT stocking stuffer)