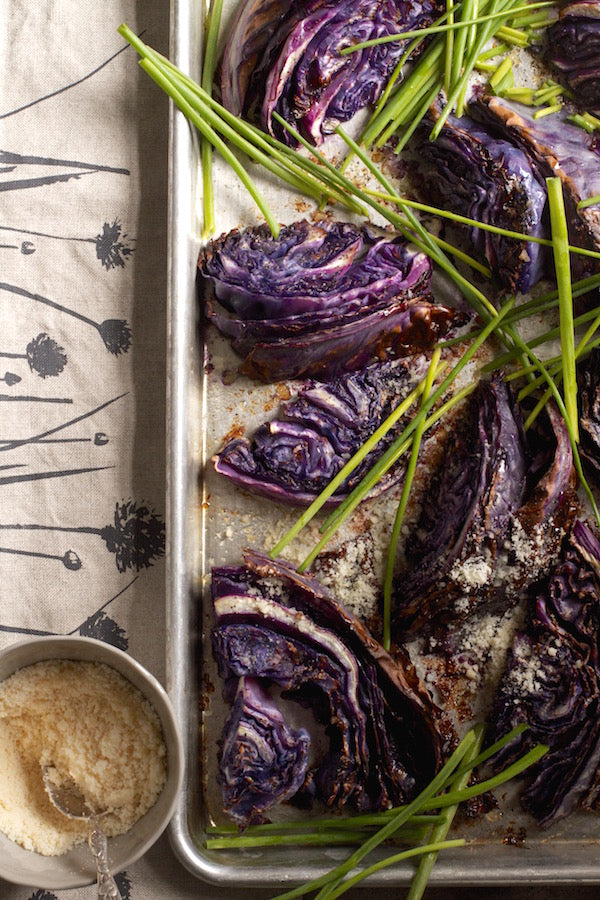 Charred Purple Cabbage with Parmesan and Chives
serves 8
A last minute side dish crowd pleaser. 
What you need: 
1 head purple cabbage, rough leaves and core removed and cut in 8 wedges
Olive Oil
Flake sea salt
Coarsely ground black pepper
4 tablespoons grated parmesan cheese
1 small bunch chives chopped in half
What to do: 
1. Preheat oven to 400ºF.

2. Prep Cabbage: Place cabbage wedges on a baking tray and drizzle all with oil, salt and pepper. Use your hands to turn each wedge and coat the other side making sure to keep the wedges intact.
3. Roast Cabbage: Roast until beginning to brown on the edges (about 15-18 minutes). Remove from oven and sprinkle all with cheese. Place back in the oven for an additional 5 minutes.
To Serve: Use a spatula to transfer each wedge to a plate or platter and garnish with chives. Serve additional grated parmesan on the side. 

Recipe by Libbie Summers
NEED RECIPE INSPIRATION? THESE AWARD WINNING COOKBOOKS ARE LOADED WITH DELICOUSLY UNIQUE RECIPES AND MAKE A GREAT GIFT. Ask for personalization at checkout. 
The Whole Hog Cookbook (Rizzoli)
Sweet and Vicious -baking with attitude (Rizzoli)
Brown Sugar (Shortstack Editions) (this one makes a GREAT stocking stuffer)
Inspire your table! 
Food-inspired Entertaining (Chive Blossoms and Pumpkins)