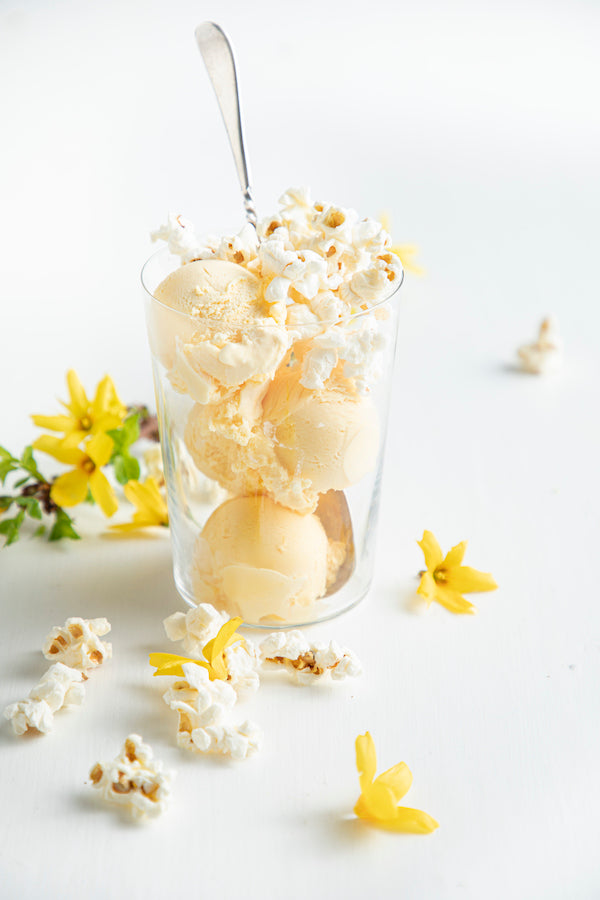 Sweet Corn Ice Cream
(corn, sweet custard + popcorn finish)
Makes 1 quart
Steeping the corn cobs with the cream mixture really brings on the corn flavor! Remember this technique when cooking soup. 

What you need: 
3 ears fresh yellow corn, husks and silks removed
2 cups heavy cream
1 cup whole milk
3/4 cup sugar, divided
5 large egg yolks
1/4 teaspoon salt
1 teaspoon vanilla paste
Popcorn for garnish, optional 
What to do: 
1. Apron Up! 
2. Prep Corn: Cut kernels from the corn cobs. Place kernels in a food processor and process until just smooth. 
3. Prepare Cream Mixture: In a medium saucepan over medium-high heat, stir together the cream, milk, 1/2 cup sugar, creamed corn and corn cobs (you may need to cut the corn cobs to fit into your pan). Cook until milk is scalding but not boiling over. Remove from heat. 
4. Make Custard: In a medium mixing bowl, whisk together the egg yolks, remaining sugar and salt. Remove cobs from hot cream mixture and set aside (you will use them again later). Temper the egg yolks by whisking in the hot cream in 1/2 cup increments until all of the hot cream is incorporated into the egg yolks. Return the entire mixture to the saucepan and heat over medium-low, stirring constantly, until the mixture thickens enough to coat the back of a wooden spoon. 

5. Strain and Cool Custard: Strain the mixture through a mesh strainer to remove any corn solids (pressing on the corn with the back of a spatula or wooden spoon to remove all the delicious liquid). Stir in the vanilla and reserved corn cobs. Cool for 6-8 hours or overnight. 
6. Finish Ice Cream: Remove the corn cobs from the cooled custard, scraping clean any of the delicious cream back into the bowl. Add chilled custard to your ice cream machine and run according to manufacturer's directions. Scoop soft frozen ice cream into a container, cover and freeze until firm. 

To Serve: Using a small portion scoop, scoop the ice cream into clear glasses and garnish with freshly popped popcorn. 


Food Photography by Chia Chong, Food Styling by Libbie Summers
Apron: Shopkeep Apron in Indigo Denim and Gingham