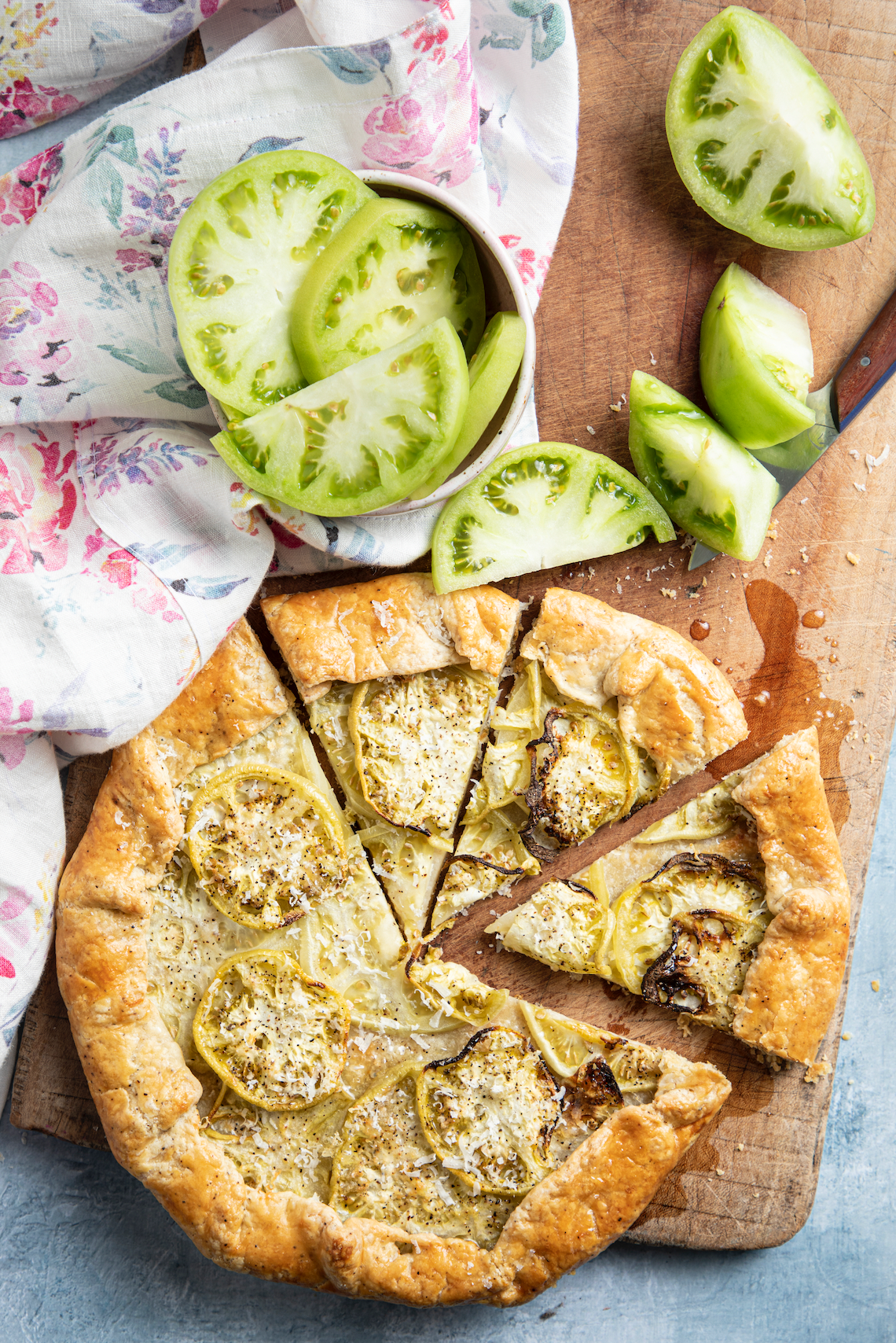 Rustic Green Tomato Galette 
(tart tomatoes, butter pastry + parmesan)
Serves 4
This galette comes together so quickly, uses up summer's generous supply of tomatoes and is French-inspired. Add a side of sliced fruit and a glass of chilled rosé (one ice cube please) for a perfect lunch. 

What you need: 
1 1/3 cups all-purpose flour
1 teaspoon garlic powder
¼ teaspoon ground black pepper
½ cup butter, cold and cut into cubes
10-12 ounces firm green tomatoes
1/2 cup Parmesan cheese, finely grated and divided
1 egg yolk mixed with 1 teaspoon cold water for an egg wash
Kosher salt
Coarsely ground black pepper

What to do: 
1. Apron Up! 
2. Make Pastry Dough: In a medium mixing bowl, sift together the flour, garlic powder and pepper. Cut the butter into the flour using two knives or your cold fingers until you have a shaggy consistency and pea-sized pieces of butter are still showing. Add two teaspoons of ice-cold water and bring dough together. You want a ball of dough that isn't sticky. Form the ball into a disk and wrap in plastic wrap. Refrigerate for 30 minutes. 
3. Prep Tomatoes: While your dough is resting and chilling, slice tomatoes thin (about 1/8-inch thickness) and lay them out onto a kitchen towel or paper towels. Dry tomatoes thoroughly before assembling the galette. 
4. Form and Assemble Galette: Preheat oven to 350º F. Line a baking sheet with parchment and set aside. Lightly flour a surface and roll out your chilled dough to a 10-inch round. Transfer round to your prepared baking sheet. Sprinkle ¼ cup Parmesan over the middle of your dough leaving a ½-ich gap around the edge. Top with sliced and dried tomatoes (leaving the gap around the edge of the dough). Sprinkle with a pinch of salt and pepper. Top with remaining parmesan. Fold up the edges of the dough. This is meant to be rustic, so don't try and be perfect here. 
5. Bake Galette: Brush edges of the dough with the egg wash and bake until the dough is golden brown, and the tomatoes are tender with a toothpick (about 30 minutes). 
To Serve: We love this with a side of fruit and glass of numbingly cold Rosé. 
Shop the Scene
Apron: Cafe Apron in Floral Linen
Skirt: Everyday Beautiful Wrap Skirt in Pink Linen
Napkins: Ruffled Napkin Set in White Linen
Walnut Cooking Utensils: Hand Hewn Walnut Utensil Set