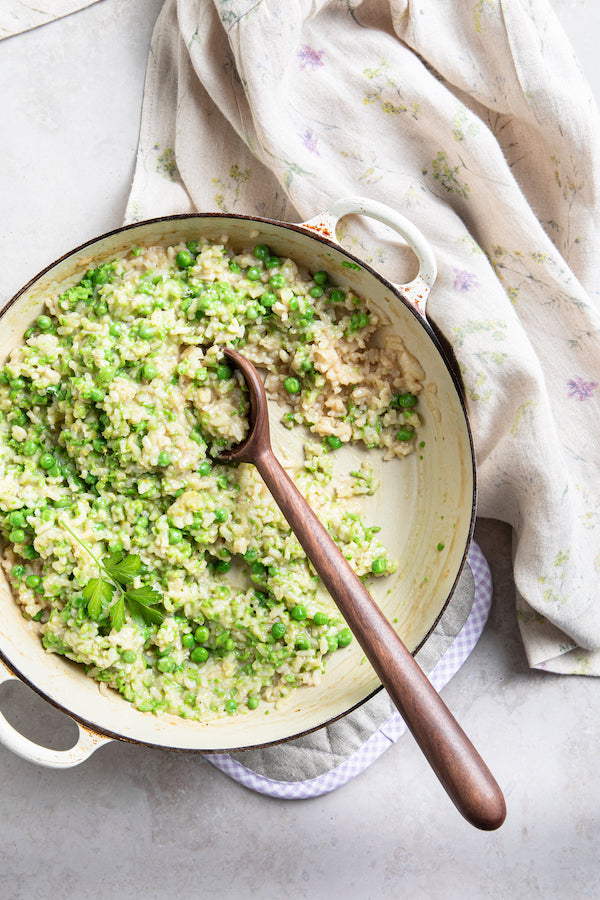 Sweet Pea Risotto
(sweet peas, lemon zing + cheesy arborio rice)
Serves 4
What you need: 
4 1/2 cups chicken stock (can substitute vegetable stock)
2 tablespoons olive oil, plus more for drizzling
2 tablespoons butter
1/2 medium-sized yellow onion, diced
2 garlic cloves, very thinly sliced
1 cup arborio rice (rinsed)
zest and juice of 1 lemon
1 1/2 cups fresh peas (can substitute thawed frozen peas), divided
1/2 cup finely grated parmesan, plus more for serving
Flake Sea Salt 
Coarsely ground black pepper
What to do: 
1. Apron Up! 

2. Simmer Stock: In a medium sauce pan, add stock and bring to a low simmer. 

3. Prepare Peas: Puree 1 cup of the peas and set aside. 
4. Cook Onions and Toast Rice: In a medium deep sided sauté pan or skillet over medium heat, add olive oil and butter. Cook until butter is just melted. Stir in onions and garlic and cook, stirring occasionally, until onions are translucent (about 2 minutes). Turn heat up to medium high and stir in rice. Cook, stirring constantly for 3 minutes. 

5. Cook Risotto: Reduce heat under sauté pan to medium and add a ladle of hot stock to the pot. Stir into the rice until the liquid is almost completely absorbed. Continue stirring and adding hot stock one ladle at a time as the rice absorbs it. After half of the stock has been added, salt and pepper to taste. Continue cooking and adding stock until rice is soft but still with a bit of a bite. 

7. Finish Risotto: Stir in lemon zest, juice and pureed peas. Gently fold in whole peas and cheese. Cook until peas have warmed through (about 2 minutes). 
To Serve: Divide between bowls, top with a drizzle of olive oil and more parmesan. Serve immediately. 

Food Photography by Chia Chong
Shop the Scene: 
Tiered A-line Midi Skirt in Soft Pink Linen
Hostess Apron in Herb Linen 
Tasting Spoon in Black Walnut
Pot Holder in Natural Linen with Lavender Gingham Trim