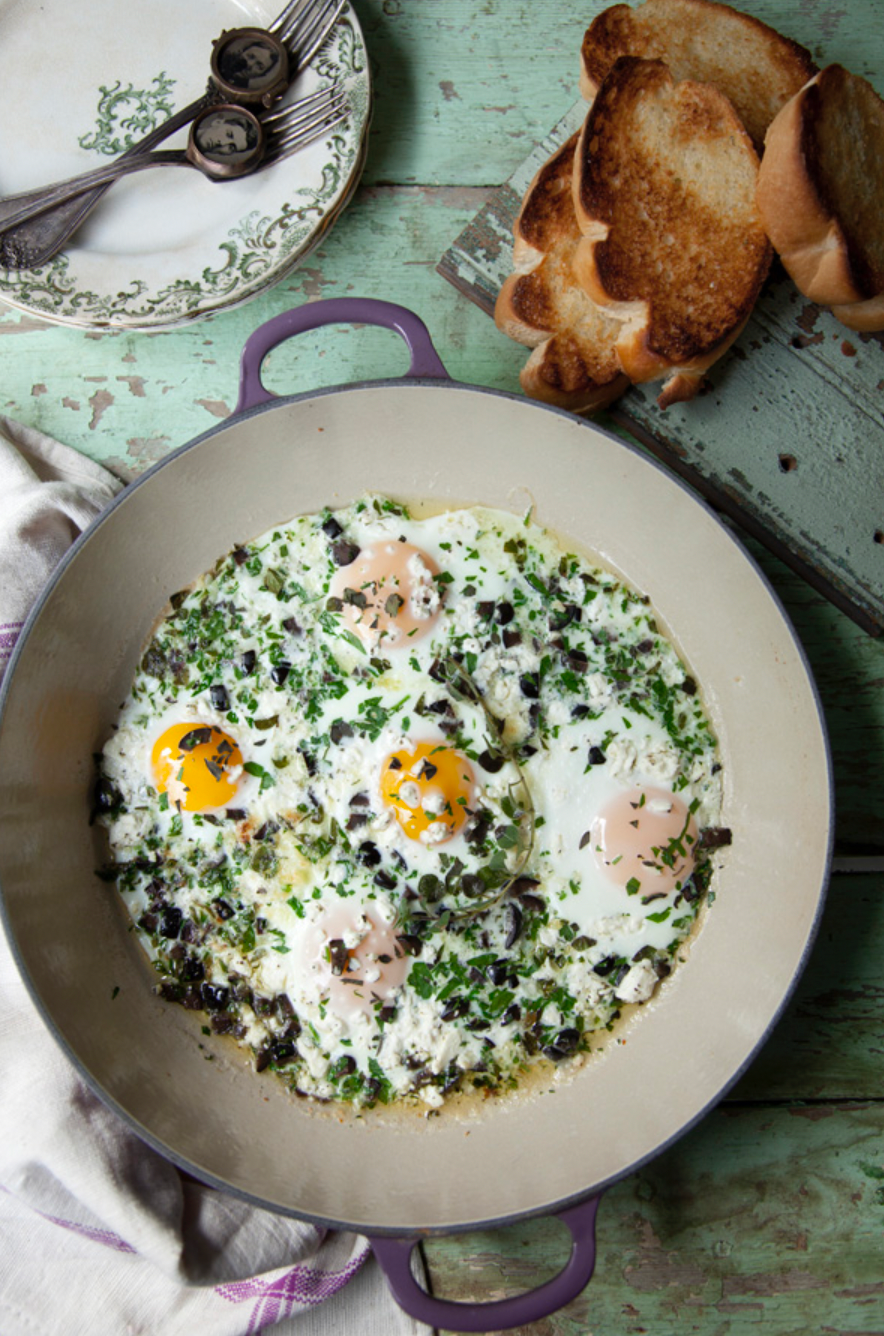 What you need:
3 tablespoons butter
1 tablespoon heavy cream
5 large eggs
5 Kalamata olives, pitted and roughly chopped
1 garlic clove, finely chopped
1/2 teaspoon finely chopped fresh oregano
1/2 teaspoon finely chopped fresh thyme
1 tablespoon finely chopped fresh parsley
¼ cup crumbled feta cheese
Kosher salt and freshly ground black pepper
Toasted bread, for dipping and sopping

What to do:
Preheat oven to broil.
1. Apron Up!
2. Heat Pan and Butter: Place the oven rack on the first shelf. Add the butter and cream to the bottom of a shallow baking dish (I like to use a stoneware braising pan). Place under the broiler until the butter and cream mixture is hot and bubbly (about 3 to 4 minutes).
3. Prepare Eggs and Seasoning: Break the eggs (keeping the yolks intact) into individual bowls and set aside. In a small bowl, stir together the olives, garlic and chopped herbs. Set aside.
4.Finish the Dish: Once the butter and cream mixture is hot and bubbly, remove from the oven and carefully pour the five eggs into the dish (work quickly). Sprinkle the tops of the eggs with the olive herb mixture and top with the crumbled feta cheese. Liberally sprinkle with salt and pepper. Place the pan back under the broiler and cook until the egg whites are nearly cooked through (approximately 4 to 5 minutes). Remove from the oven and allow to set for 1 minute before serving. Serve hot with toast for dipping.