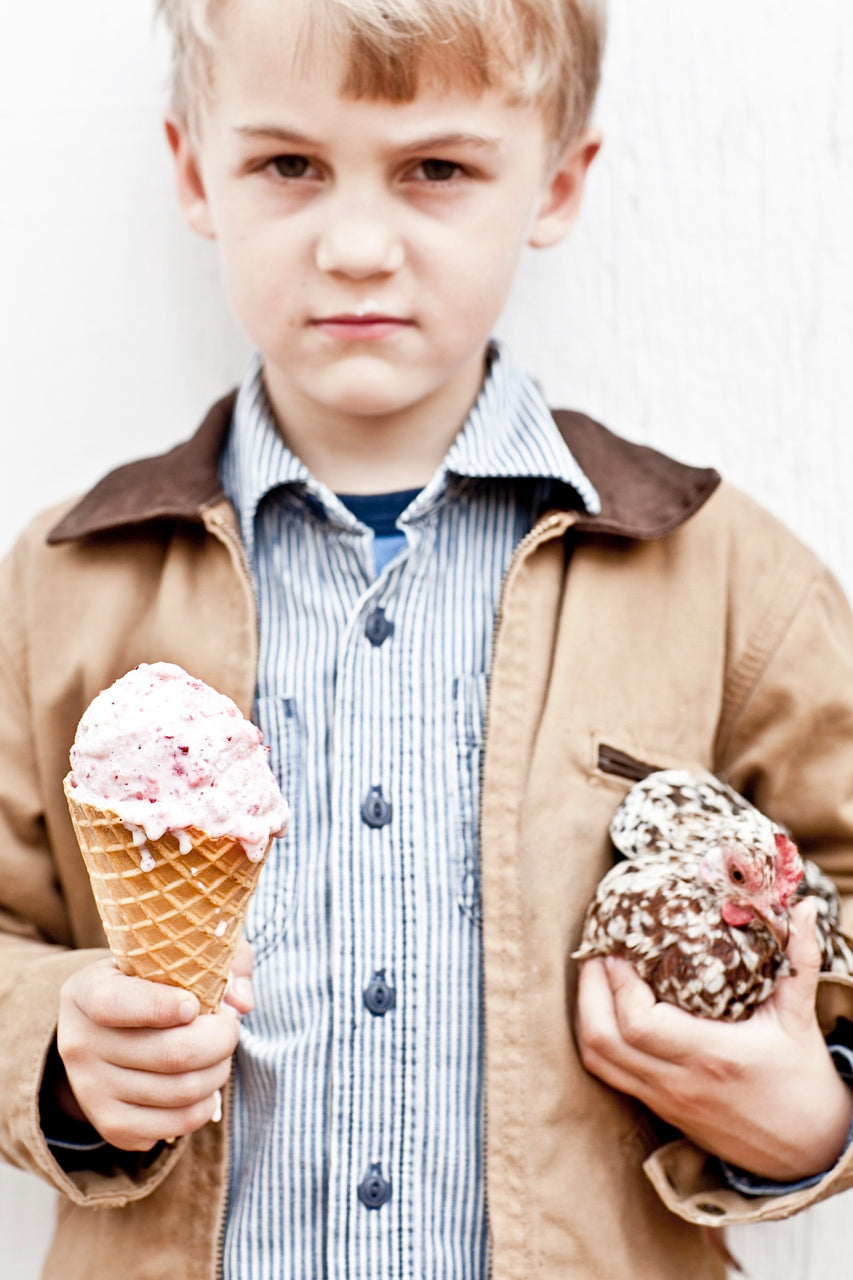 Homemade Strawberry Ice Cream
(fresh cream, eggs, sugar + strawberries)
makes about 2 quarts 
Be present. Revel in the simple pleasures of life.
There are very few pleasures greater than sweet homemade ice cream on a hot day. Revel in it. 
What you need:
2 quarts heavy cream
1 vanilla bean
6 large egg yolks
1 cup sugar
1 tablespoon lemon zest
1 quart fresh strawberries, washed and hulled
Prepared waffle ice cream cones (optional)
What to do:
1. Apron Up!

2. Make the Custard: In a heavy saucepan over medium-low heat, add the heavy cream. Split the vanilla bean down one side and scrape out all the seeds into the heavy cream. Drop bean into the cream. Bring the mixture to a simmer for 5 minutes, stirring frequently. In a medium mixing bowl, whisk the egg yolks with the sugar until completely combined and smooth (mixture will be thick). Remove the vanilla bean from the heavy cream. Temper the egg yolk mixture by slowly whisking in 1 cup of the hot heavy cream. While still over a medium-low heat, gradually whisk the tempered egg yolk mixture into the heavy cream. Continue to cook, stirring constantly, until the custard thickly coats the back of a spoon (about 5 minutes). If lumpy, strain through a double layer of cheesecloth or a fine mesh strainer. Stir strained mixture until just cool then cover and place in the refrigerator until completely chilled (about 2 hours or overnight).
3. Make Strawberry Mixtures: Cut the strawberries into quarters and divide in two. Set one half aside. Place the other half in a blender with the lemon zest and puree until nearly smooth (you can add a couple of tablespoons of the chilled custard to the strawberries for easier blending).
4. Finish Ice Cream: Stir the pureed strawberry mixture into the chilled custard and freeze in an ice cream machine according to the manufacturer's directions until set but still a little soft. Stir in remaining strawberry quarters, cover and freeze until completely set (about 2 to 4 hours).
To Serve: Scoop into bowls or on a waffle cone. Eat Quickly! 
Photography of David Bucey for Salted and Styled by Chia Chong
Recipe and Styling: Libbie Summers
Artwork and Modeling by Katherine Sandoz (who is also the dreamy mother of the boy ice cream model above)
SHOP THE SCENE:
Hostess Apron in Light Pink Gingham Linen (one size fits all)