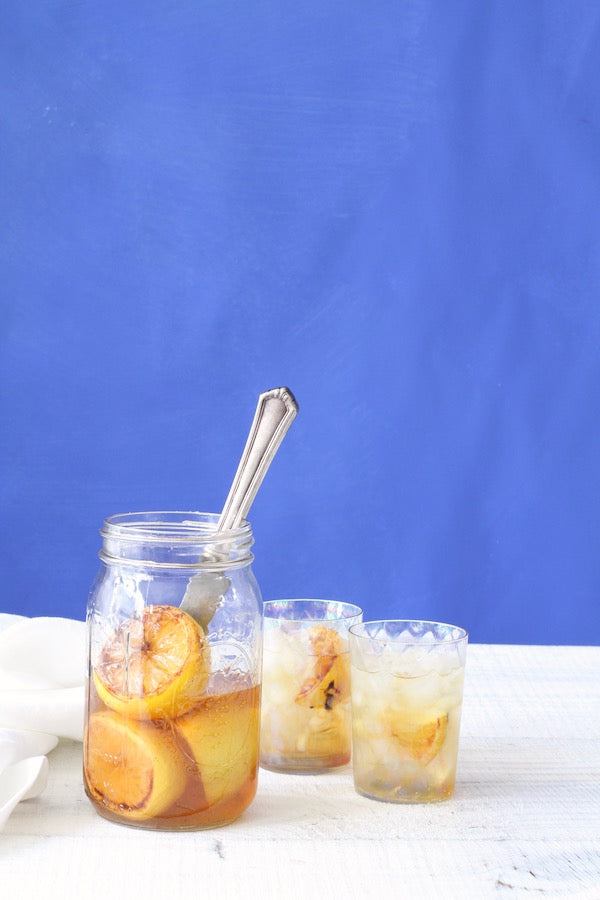 Brown Sugar-Scorched Lemonade
(sweet charred lemons, vanilla + the coldest water)
Makes 2 quarts
There are few things better than sitting on a screened-in porch in the summer while sipping a glass of this lemonade. I think of it as a privilege for those of us lucky enough to live in the South, a reward for surviving the annual sand gnat season. The thing is, our lemons aren't very juicy during the summer months. My solution: "scorching" the lemons in a hot pan before squeezing them, which yields 40% more juice and adds a subtle caramelized flavor. -Libbie Summers
What you need: 
3/4 cup light brown sugar, divided
1 vanilla bean, split
4 lemons, halved
Ice and water
What to do: 
1. Apron Up! 

2. Make Vanilla Brown Sugar Syrup: In a small saucepan over low heat, stir together 1/2 cup sugar and 1 cup water. Cook, stirring, until sugar is completely dissolved. Remove the pan from the heat and add vanilla bean. Let vanilla bean steep in the water until cooled. Remove vanilla bean and save for another use (make vanilla sugar -your baking will never be the same old). Note: A faint vanilla flavor is what you are trying to achieve in this sugar syrup.
3. Scorch Lemons: Heat a griddle or medium skillet over high heat. Pour the remaining 1/4 cup sugar onto a small plate. Dip all the cut sides of the lemons into the sugar to coat the surfaces. Place the sugar-coated lemon halves (sugar side down) on the hot griddle and cook until the sugar starts to turn brown and bubble around the lemons (about 30-45 seconds). Remove the griddle from the heat and allow to cool until the lemons are cool enough to handle.
4. Make Lemonade: Fill a pitcher or large jar with 2 quarts of water. Squeeze the lemons over the water, then drop the squeezed lemons into the water. Stir in the vanilla sugar syrup.
To Serve: Pack glasses with ice and pour the Scorched Lemonade over. Garnish isn't necessary. 

Recipe and styling by Libbie Summers from Brown Sugar (Shortstack Editions)
Shop the SCENE: 
Hostess Apron in Blue Gingham Linen
Ruffled Napkin Set in White Linen (set of 4)