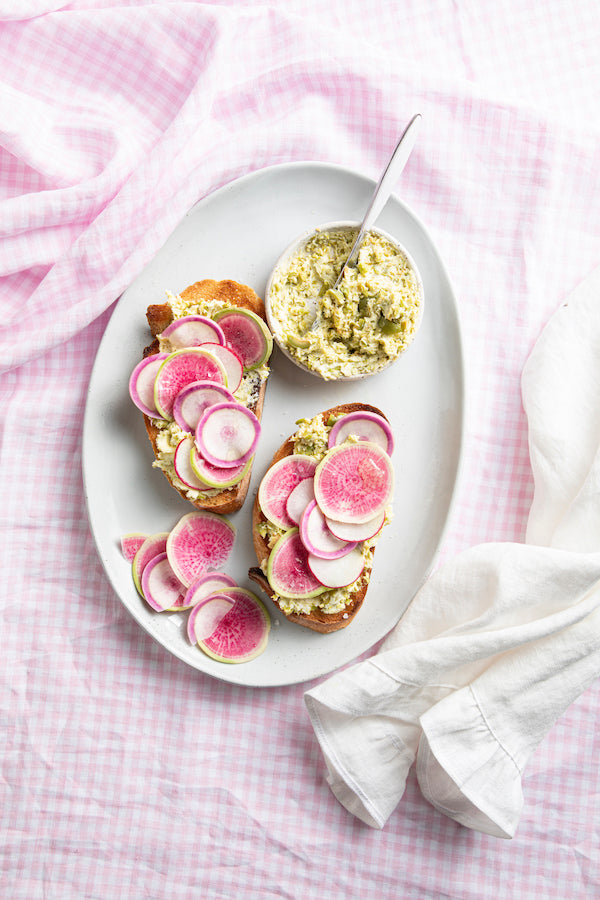 French Picnic Sandwich
(olive butter, toasty bread, radish + honey)
Serves 4
Earthy toasty bread slices topped with a briny butter and pepper radish slices. The absolute perfect pull over on the side of the road, use your huge linen scarf for a makeshift picnic blanket and admire the scenery kind of lunch. 
What you need: 
1/2 cup butter, room temperature
1/2 cup chopped Castelvetrano Olives, pitted and chopped
4 (1-inch) slices good quality sourdough bread, toasted 
4 radish, thinly sliced
2 teaspoons honey, (I use Savannah Bee Company® Tupelo Honey), optional
Coarsely ground black pepper, optional 
What to do: 
1. Apron Up! 

2. Make Olive Butter: In a small mixing bowl, stir together the butter and olives. 
3. Make Sandwiches: Slather one side of the toasted bread slices with a healthy portion of the olive butter. Top each with radish slices and drizzle with honey. Pepper if you are of that persuasion. 
Food Photography by Chia Chong
Recipe and Styling: Libbie Summers

SHOP THE SCENE: 

Linen Picnic Blanket Scarf in Pink Gingham