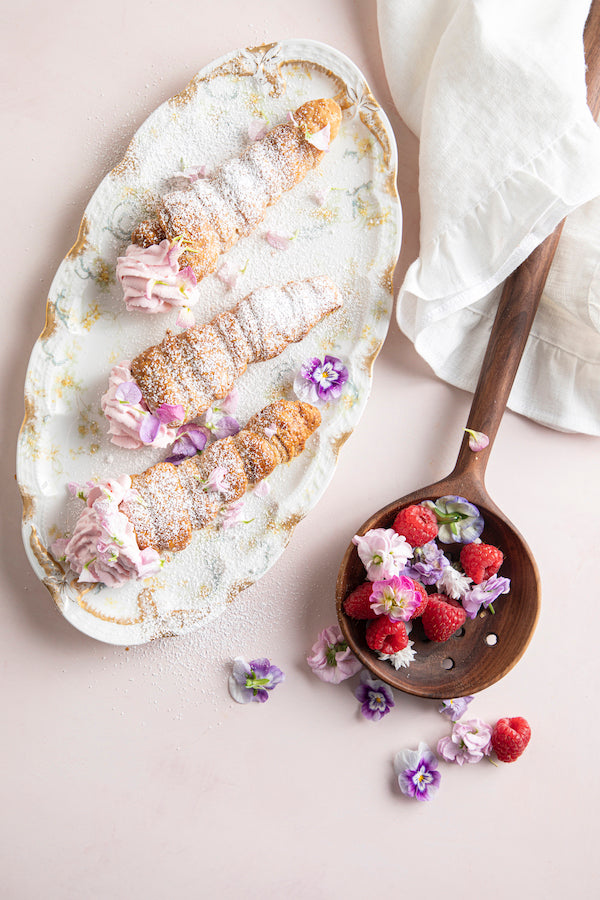 Raspberry Cream Horns
makes 6
Make your own puff pastry or buy good quality premade in your freezer section for a speedy and trés special dessert. 
What you need: 
1 sheet premade puff pastry, thawed according to package directions
1 egg yolk, beaten with 1 tablespoon water or milk to make an egg wash
1 cup cold cream
1/4 cup confectioners sugar, plus more for final dusting
1 teaspoon vanilla extract
1 tablespoon raspberry powder (freeze dried raspberries pulsed to a powder in a food processor)
Edible flowers and fresh raspberries for garnish (optional)
What to do: 
1. Apron Up! 
2. Prep Molds: Grease 6 *cream horn molds with butter and set aside. Line a baking sheet with parchment paper and set aside. Have a small bowl of cold water ready. 
3. Wrap Molds: Roll the puff pastry out flat and 1/4-inch thick. Cut the dough into 6 equal width strips. Work with one strip and one mold at a time. Brush the strip of dough lightly with cold water. Starting at one end of the mold, roll the dough loosely around the mold, overlapping the dough slightly as you go. (This ever-so-slight gap between the puff pastry and the mold will allow you to remove the pastry form the mold more easily after it's baked.) Place molds on the prepared baking sheet and repeat the process with each mold. Refrigerate for 30 minutes. 
4. Bake Horns: Preheat oven to 425º F. Remove the chilled horns from the refrigerator and brush with the egg wash. Bake until the horns are golden brown (about 20-30 minutes). Remove from oven and, when cool enough to handle, carefully remove the molds from the horns. Let the horns cool completely before filling. 
5. Make the Cream Filling: In the bowl of a standing mixer fitted with the whisk attachment, beat the cream on medium speed until it begins to thicken, Add sugar, raspberry powder and extract and continue to beat until smooth and creamy thick. 
6. Fill the Horns: Using a pastry bag and decorative tip (your call) or a long-handled spoon, fill the horns with the filling. 
To Serve: Dust Raspberry Cream Horns with confectioner's sugar and garnish with edible flowers and fresh raspberries. 
*Cream horn molds are cylinder-shaped molds. They come in varying sizes and are most often used for shaping cannoli. If you don't have a mold, don't let it stop you. In a pinch, you can shape them by tightly packing aluminum foil into a 5-inch long cylinder about 1-inch in diameter (think hot dog shape). It works great! 
Food Photography by Chia Chong
Recipe and Styling by Libbie Summers
Shop the SCENE: 
Pinafore Apron in Indigo Chambray and Navy Gingham
Ruffled Napkin Set in White Linen