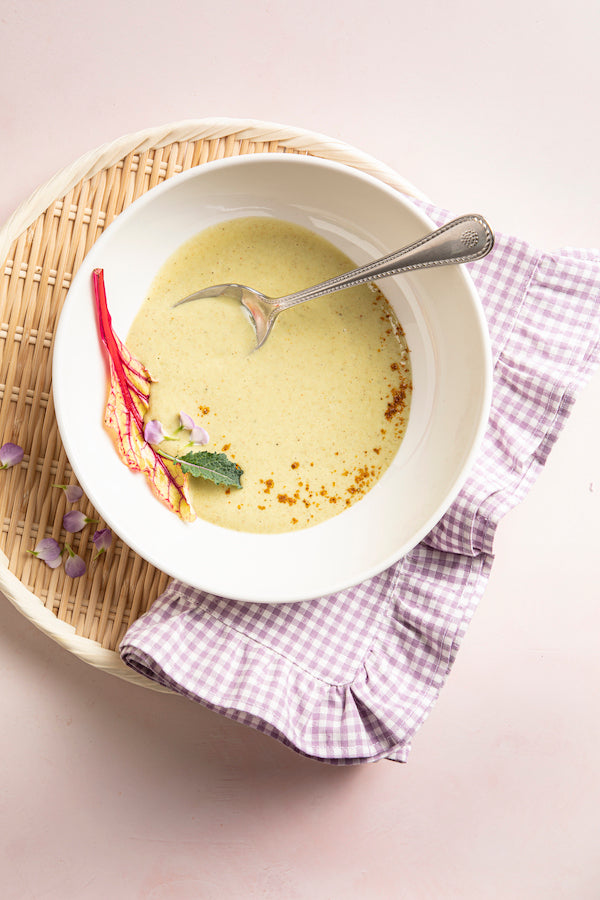 Avocado Soup
(ripe avocados, almond milk + curry powder)
Serves 2 (vegan)
What you need: 
2 ripe avocados, pitted and peeled
2 cups almond milk
1 teaspoon curry powder, plus more for garnish
Kosher salt
Coarsely ground black pepper
Herbs for garnish
What to do: 
1. Apron Up! 

2. Blend Soup: In a blender, add avocados, milk and curry powder. Blend until smooth. 

3. Heat Soup: In a small saucepan over low heat, add soup and heat JUST until hot. Do not simmer. Season to taste with salt and pepper. 
To Serve: Divide soup between two bowls and garnish simply with more curry powder, herbs or a sweet edible leaf. 
Recipe based on a recipe from the book A Painter's Kitchen -recipes from the kitchen of Georgia O'Keeffe By Margaret Wood
Food Photography Chia Chong
Shop the Scene: 
Everyday Beautiful A-line Wrap Skirt in Pale Pink
Ruffled Napkin Set in Lavender Gingham