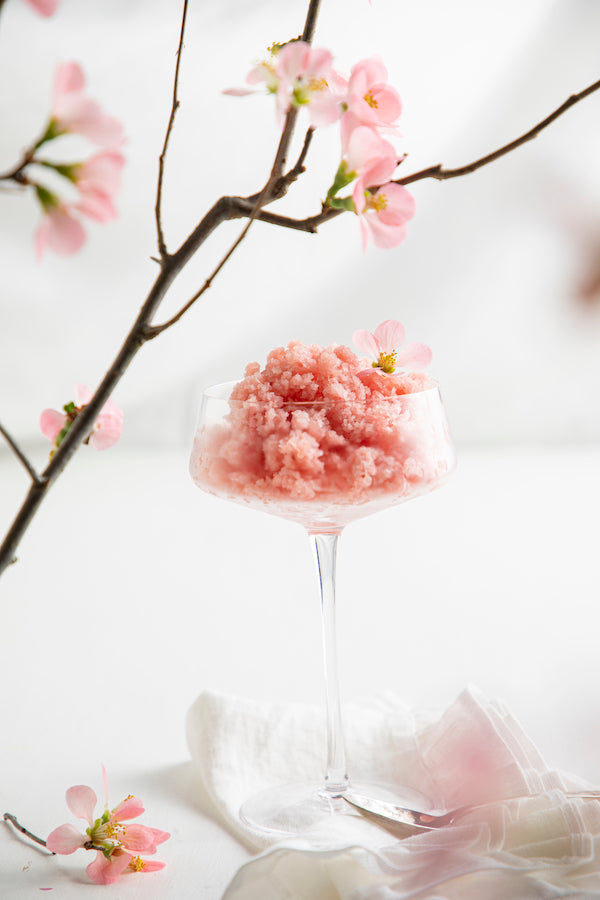 Ginger Rhubarb Granita
(slightly sweetened with heady Spring flavors)
Serves 4-6
What you need: 
4 cups roughly chopped fresh rhubarb
Juice of 1 lemon
1/2-inch nob of fresh ginger
3 cups water
1 cup sugar
What to do: 
1. Apron Up!
2. Check Yourself: Make sure you have space in your freezer for a 9x13 baking dish. 
3. Cook Rhubarb: In a medium sauce pan over medium heat, add all your ingredients. Cook until rhubarb is soft. Allow to cool for 2 hours in the refrigerator. Remove ginger nob. 

4. Purée Rhubarb: Add rhubarb mixture to a blender and purée until smooth. Pour mixture into baking dish and place in the freezer. 
5. Finish Granita: Begin setting a timer for 45 minute intervals. At each interval, remove the pan from the freezer and scrape with a fork. Place back in the freezer (don't worry if it's still very wet in the beginning). Continue the scraping and freezing process until you have ice crystals (not a solid mass). It should take about 4 or 5 times. 

To Serve: Spoon granita into beautiful clear bowls or coupe glasses, garnish with a spring flower. 

Food Photography by Chia Chong
Artwork by Katherine Sandoz
Shop the Scene: 
Tiered A-line Midi skirt in Soft Pink 
Ruffled Napkin Set in White Linen