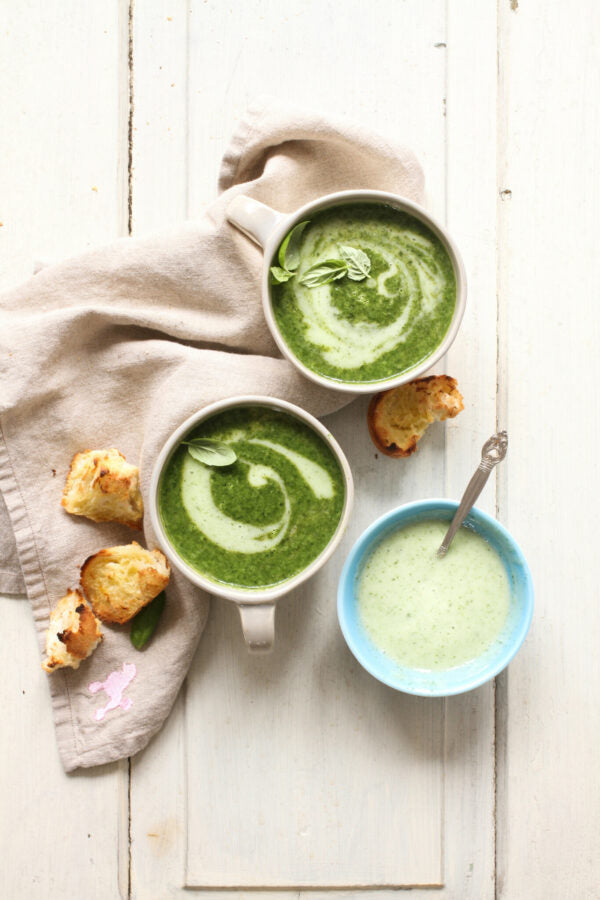 Your eyes jolt open on a bright Spring morning to jabs of tiny pinches that barely grab your skin yet somehow hurt the most. After disengaging from the onslaught of "You're not wearing green!" you head to the kitchen for just the right pick me up. This is a day that will certainly end in drunken encounters with "Erin go Bra-less" tourists who are about as Irish as the Queen of England. Tying on a green skirt and tucking some basil behind your ear as you head out the door, you decide to take the long way to work... just to see Forsyth fountain in all of her green glory.
Savannah, Georgia
2022
Spinach Soup with Basil Cream and Torn Lemon Croutons (VEGAN)
(serves 4)
What you need: For Lemon Croutons
1 baguette, torn into large pieces
1/4 cup olive oil
Zest from 1 lemon
For Basil Cream
1/2 cup basil leaves, packed (plus more for garnish)
1 cup plain coconut milk yogurt
Juice from 1 lemon
Flake sea salt
For Soup
1 onion, roughly chopped
2 garlic cloves, peeled and smashed
3 cups vegetable stock
1 cup parsley leaves, roughly chopped
10 ounces baby spinach leaves
1/4 teaspoon cayenne pepper
1 cup plain coconut milk yogurt
1/4 cup vanilla coconut milk yogurt (can substitute 1 tablespoon honey for a vegetarian version)
Flake sea salt
Coarsely ground black pepper
What To Do:
1. Apron Up!
2. Make Lemon Croutons: Preheat oven to 375º F. On a baking sheet, add bread, olive oil and lemon zest. Toss to coat. Bake just until golden brown (about 5-10 minutes). Set aside to cool.
3. Start Soup: In a large sauce pan over high heat, add onion, garlic and stock. Bring to a boil, cover and reduce heat and simmer just until onions are tender and translucent (about 10 minutes).
4. Make Basil Cream: While onions are cooking, make the Basil Cream. In a blender, add yogurt, basil leaves and lemon juice. Puree until smooth. Season with salt. Pour into a bowl and set aside.
5. Finish Soup: Once the onions have cooked through, add the parsley, spinach and cayenne pepper. Stir and cook just until spinach has wilted. Stir in yogurt. Season to taste with salt and pepper. Add soup to a blender and puree until smooth (or use and immersion blender).
To Serve: Set the Table! Divide soup between bowls and add an ample swirl of Basil Cream over the top. Garnish with basil leaves and serve with Lemon Croutons.