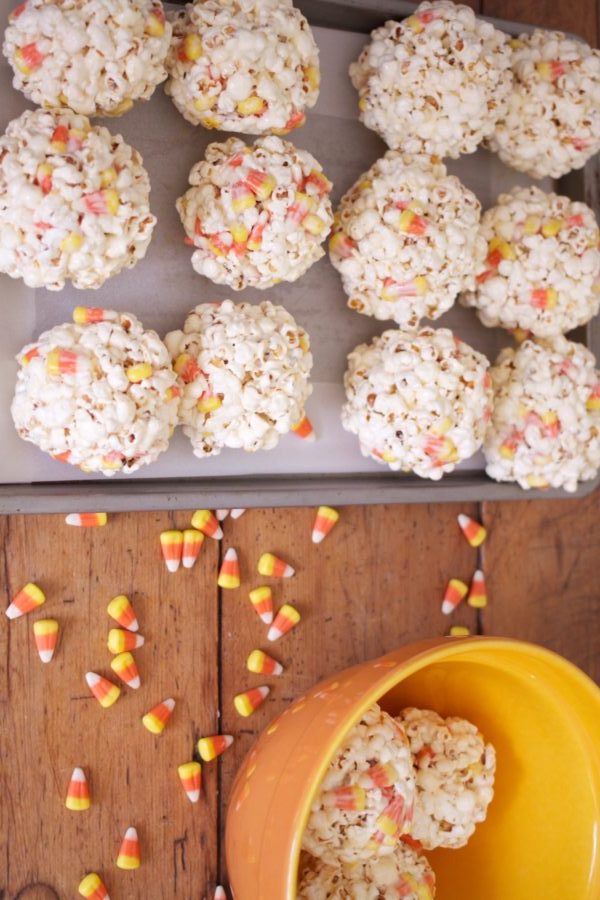 Candy Corn Marshmallow Popcorn Balls
makes about a dozen softball sized balls
What you need:
1 cup uncooked popcorn kernels (I love Orville Redenbacher)
6 tablespoons vegetable oil
Cooking spray
2 cups candy corn
2 (10 ounce) bags mini marshmallows
10 tablespoons unsalted butter
What to do:
1. Line a baking sheet with wax paper and set aside.
2. In a large saucepan with a tight-fitting lid, add the oil and 2 popcorn kernels. Cook over high heat until the kernels pop, then add the remaining popcorn, cover and lower the heat to medium-high. Cook until the kernels stop popping, shaking the pan often. Discard any unpopped kernels.  Spray a large mixing bowl with non-stick spray and add popcorn and candy corn. Set aside.
3. In a large pot over medium-high heat, add the butter and marshmallows. Cook, stirring, until melted and smooth (about 6 minutes).
4. Pour the melted marshmallow mixture over the popcorn mixture and gently toss to coat.
5. Coat your hands with cooking spray, then shape the into balls (have everyone help!). Place balls on the prepared baking sheet and refrigerate until firm.