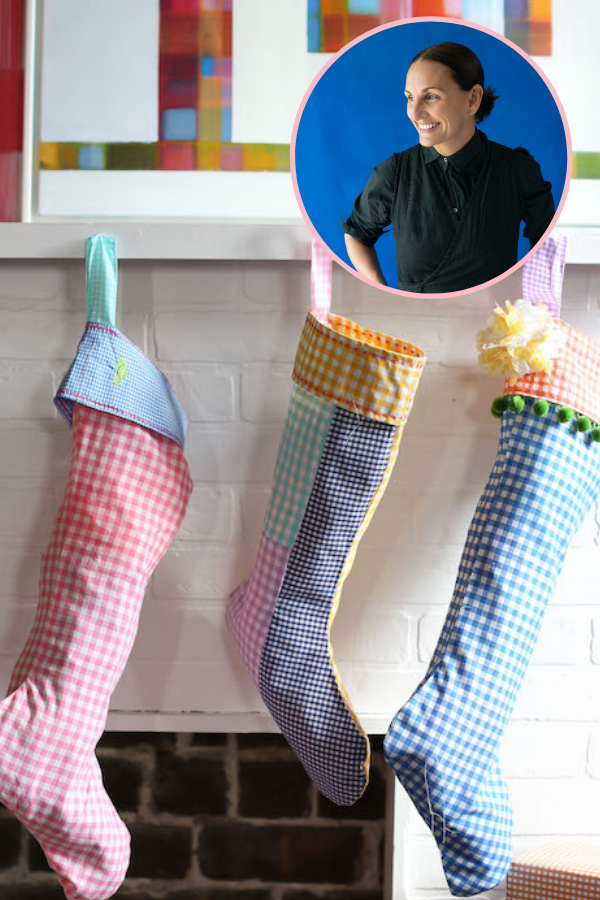 "When are we having our tree?" My Midwestern parents still refer to opening presents as "having the tree". There were always more presents under the tree than any one family should have -and yet not much thought was ever given to the contents of the colorful stockings that hung near by. An orange. A bag of peanut clusters. A deck of cards. Always an obscure grouping of items that even as a small child I would recognize as "Santa was in a hurry" kind of shit. Then I got married to an amazing human and on that first Christmas I realized he put more effort into the contents of the stockings than he did to "having the tree". He filled the stockings with thoughtful gifts, a special sweet (for me it was German black licorice) and a hand written note folded just so and placed in the stocking's toe.
Today, many years later, we carry on the stocking tradition from our first Christmas together. Always a special gift, always something sweet and always a special note folded just so and placed in the stocking's toe. -Libbie Summers


The sweets and the sweet note I'll leave to you, but for that "special stocking gift", I've got you covered. Below are 10 of my favorites that I absolutely know she will LOVE!
FREE SHIPPING through December 20th and FREE LOCAL DROP OFF through December 24th. 
1. French Butter Keeper –She traveled to Normandy in college and marveled at how the butter was always perfectly held at room temperature.
•A limited edition coral pink ceramic French Butter Keeper. Hand thrown in the Low Country with strokes of marsh grass along the sides and slipped in the pink hue of a Savannah River sunset. LIBBIE SUMMERS X KYLE SMITH
$55



2. Wool Beret in Grey -She went to Normandy via Paris...(see #1)
•She needs this because wearing a beret makes even the boring look interesting.
$30
3. Linen and Lavender Sachet Set (set of 3 oversized/5x5") -She appreciates the beauty of the linen but really appreciates the organic lavender inside.
•Tuck in drawers between your lingerie, on shelves, in boots or under a pillow as lavender properties are known to promote a restful sleep.
$26

4. Cotton/Linen Washcloths -She's well traveled enough to know that even the best hotels have scratchy washcloths.
•The magic of our hand knitted washcloths is in the chosen yarn. Each OVERSIZED washcloth (9-inch X 9-inch) is hand knitted by intriguing women in the USA using a yarn blend of lightweight cotton and the stronger fibers of Belgian summer linen resulting in a cloth that is ridiculously soft whilst being a strong gentle massager with great absorbency. For body or kitchen use. Available in 5 colors and 1 gingham pattern. 
$22-$24



5. Brown Sugar Cookbook -Because the recipe for Sticky Toffee Wings is a life changer. 
•Short Stack is a series of small-format cookbooks about inspiring ingredients, authored by America's top culinary talents. Each edition is a collectible, single-subject booklet packed with recipes that offer ingenious new ways to cook our favorite ingredients. 
$14

6. Linen Headscarves (5 colors) -Because headbands aren't her groove. And, she saw a picture of Brigitte Bardot on her wedding day wearing a linen headscarf just like this one.  
•Long ties and a soft triangle tip to accommodate many styles OR to double as chic face mask.
$28

7. White Linen Kitchen Towel with Cafe Latte embroidery -Because she thinks drying dishes should be a sensory task and she once sat outside a French cafe for 24 straight hours waiting for him...
•A kitchen towel that is absorbent, chic and cheeky. Exquisitely sewn from white Japanese linen with the most darling pink caffe latte cup embroidered in the corner. Pale pink twill tape on the back is sewn in snugly for hanging. Excellent for drying dishes yes, but ADORABLE when used as napkins on a dining table. 
$20

8. All-natural Chef's Soap -Because they care about what touches their skin and it HAS to smell good. 
•Each all-natural/vegan soap bar is handcrafted using the cold process method and features coffee grounds, orange-infused olive oil, dried orange peel and essential oils of lemon, orange and cinnamon.
$9/single bar
$25/ceramic soap pig and single bar 

9. Pink Reversible Market Bag (Also available in navy and black. Reverse from gingham to polka dot) -Because some days she feels like a pop of gingham and some days she feels like a pop of polka dot but she ALWAYS feels like carrying a reuseable bag to the market and looks down on those who don't.  
•A weekender, shopping, diaper or everyday happy reversible bag. Adjustable feminine tie tops allow you to wear it over the shoulder or cross body. Stunningly crafted, durable and meant to be carried and washed and carried and washed...
$65



10. Hostess Apron in Twilight Blue Gingham Linen -Because every modern hostess needs one...and she'll be wearing the smile you gave her every time she puts it on. 
•Our French Chamber Apron made flirty with a shorter length. Gorgeous lightweight linen with a navy and white check print. Flowy draping with a with extra yardage to accommodate most-sized bodies. Deep feminine pockets. Stunningly crafted and meant to be worn and washed again and again. 
$125

For more holiday gift ideas shop the holiday catalog!
Click on the image!