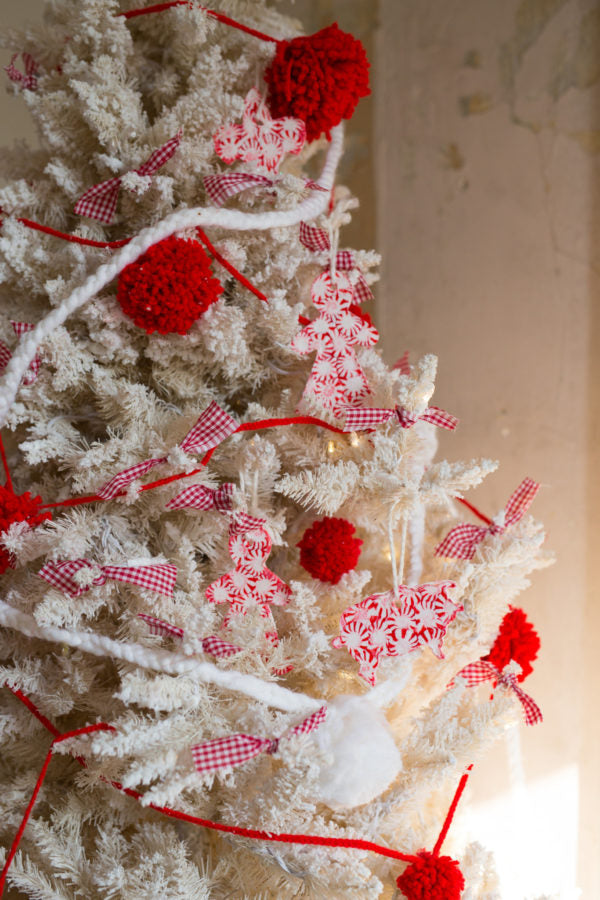 This holiday craft is perfect for a tree meant just for the littles! I've added red and white pom pom garland and tied torn pieces of gingham fabric on the branches to complete the playful look. -Libbie Summers

Peppermint Candy Cookie Cutter Ornaments
Yield depends on size of cookie cutters

What you need: 
Festive metal cookie cutter(s), (bigger is better)
1 bag of round peppermints
Non-stick cooking spray
1 chopstick or small stick
1 sheet tray
Parchment paper or silicone baking tray liner
Paring knife
Yarn
What to do: 
1. Apron Up, Gather Ingredients and Coat Cookie Cutter: I'm wearing the Chamber Apron in White Linen because it washes up so beautifully and I feel beautiful while crafting! Preheat oven to 350ºF. Lay a sheet of parchment paper or a silicone baking sheet liner on your sheet try. Next, completely cover (both sides) your cookie cutter with cookie spray, you'll thank me later!


2. Place Your Peppermints: Arrange your cookie cutters on the baking paper and carefully place your peppermints inside one by one. You may need to crack a few to fit in tight spaces. Don't worry about a few gaps, as the candies begin to melt the holes will fill in.

3. Bake: Place tray on the middle rack of your oven and allow to bake until just melted together (about 3-6 minutes). Remove from oven immediately.


4. Trim the Excess: Allow about 30 seconds for the candies to set up a bit before using a paring knife to cut away any of the candy that has seeped out the cookie cutter. Work quickly!!

5. Create Hole for Hanging: Use a chopstick or other small stick to carefully make a 1/4-inch hole at the top for hanging later.


6. Remove From Cutter: Using your hands, push the slightly cooled peppermint shape out of the cookie cutter. The candy must be still pliable for it to come out without breaking. If need be, you can pop back in the oven for 30 seconds.

7. Make a Hanger: Cut a length of yarn and thread through the hole in the ornament and tie ends together.

8. Decorate Your Tree: Hang ornaments from the yarn hangers onto the branches of your tree!

Craft by Libbie Summers
Craft Photography by Teresa Earnest Social