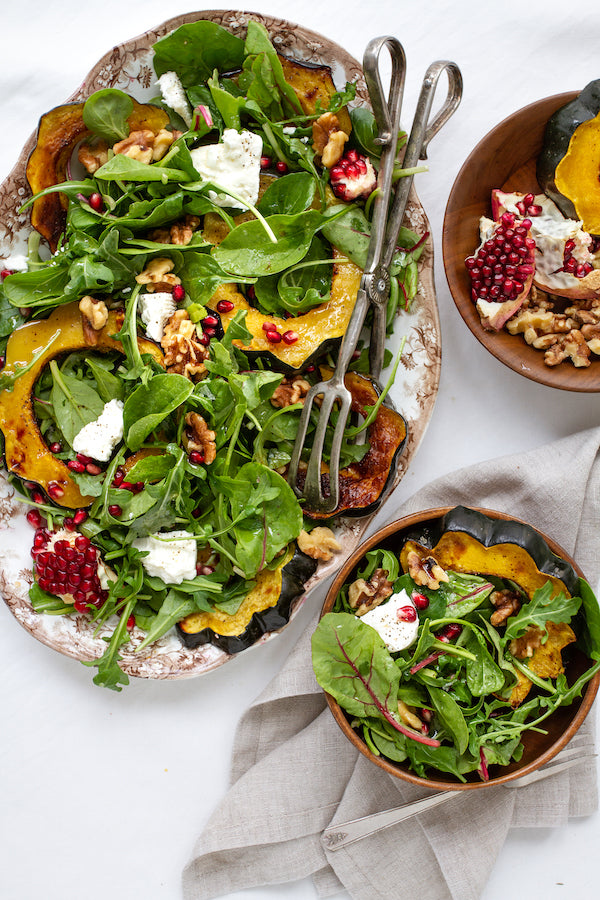 Honey Roasted Acorn Squash Salad
serves 6
Sliced and honey-spiced acorn squash, organic greens, pomegranate arils, salty feta and crunchy walnuts. 

What you need: 
1 acorn squash, sliced and seeded 
2 tablespoons olive oil
1/2 teaspoon pumpkin pie spice
4 cups mixed organic greens (I use arugula and a mix of spring greens), washed and dried
1/2 cup pomegranate arils
4 ounces feta cheese, broken into large pieces
1/2 cup walnut halves, toasted
Flake sea salt 
Coarsely ground black pepper
Honey Lemon Dressing (recipe to follow)
What to do: 
1. Preheat oven to 400º F. 
2. Roast Acorn Squash: Place acorn squash slices on a baking sheet and brush with oil on both sides. Sprinkle both sides with pumpkin pie spice, salt and pepper. Roast until slices are cooked through. About 20 minutes (you can turn squash slices halfway through, but I choose not to turn because I like a browned bottom).
3. Prepare Salad: Place salad greens on a large platter. Top with roasted acorn slices, pomegranate arils and feta cheese. Drizzle Honey Lemon Dressing over and garnish with toasted walnut halves. Serve immediately.
Honey Lemon Dressing
1/4 cup fresh lemon juice
1/4 cup honey (I use Savannah Bee Tupelo Honey)
3/4 cup avocado oil
Flake sea salt 
Coarsely ground black pepper

1. Whisk lemon juice, honey and oil together. Salt and pepper to taste. 

Recipe by Libbie Summers
SHOP THE SCENE:
French Picnic Linen Napkin Set in Yellow Gingham
Sand Linen Napkin Set