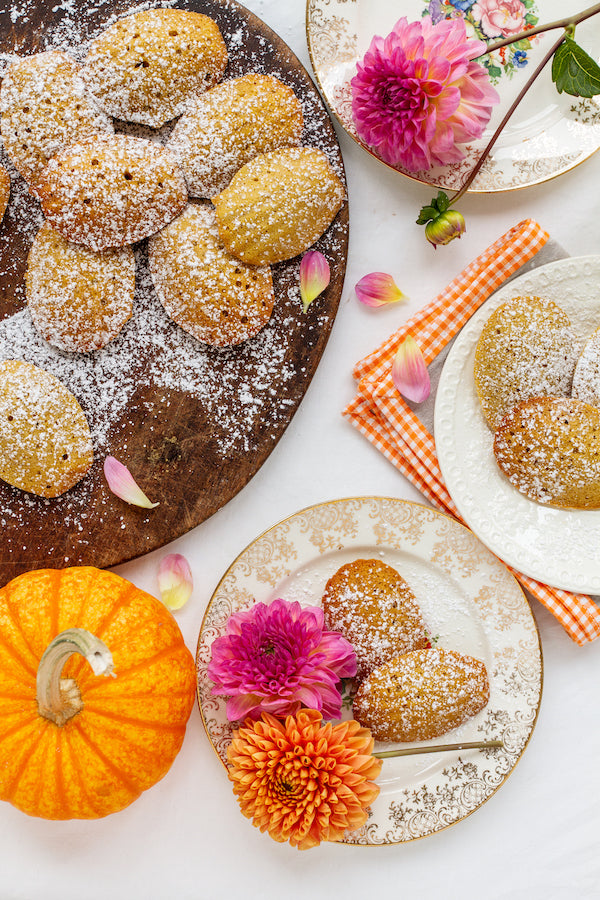 Pumpkin Spice Madeleines
makes 16 individual madeleines 

A Parisian my look sideways at this very American flavor profile, but they will still reach for seconds. I've seen it happen. 

What you need: 
2 large eggs, room temperature
1/2 cup granulated sugar
1 cup all-purpose flour
1/4 cup pure pumpkin puree
1 1/2 teaspoons baking powder
1/2 teaspoon salt
1 1/2 teaspoons pumpkin pie spice
10 tablespoons butter, melted, cooled and divided
Confectioner's sugar for dusting

What to do: 
1. Mix Eggs: In the bowl of a standing mixer fitted with a whisk attachment, add eggs and whip on medium speed until light yellow. Gradually add the sugar until all is incorporated. Turn mixer to high speed and whisk until the mixture has doubled in size (about 5-8 minutes). 
2. Start Batter and Rest: Remove the bowl from the stand and fold in the flour, pumpkin puree, baking powder, salt and pumpkin pie spice. Cover and allow batter to rest for a minimum of 30 minutes and up to an hour. 
3. Finish Batter: Reserve two tablespoons of butter for greasing the madeleine baking pan molds. Fold the remaining melted and cooled butter (butter should still be liquid, but NOT be hot) into the batter. Cover and allow to rest for a minimum of 30 minutes and up to an hour. 
4. Bake Madeleines: Preheat oven to 400º F. Using two madeleine pan molds, brush 16 indentations with the reserved two tablespoons butter. Scoop 1 tablespoon of batter into each indentation (making sure to fill each 3/4 full). Tap the pans on the counter to evenly distribute the batter. Bake until light brown to golden brown (about 10 minutes). Remove from oven and allow to cool for 30 seconds before tipping madeleines onto a cooling rack. 
To Serve: Dust unapologetically with confectioner's sugar and serve. 
Recipe by Libbie Summers
SHOP THE SCENE: French Picnic Linen Napkin Set in Orange Gingham