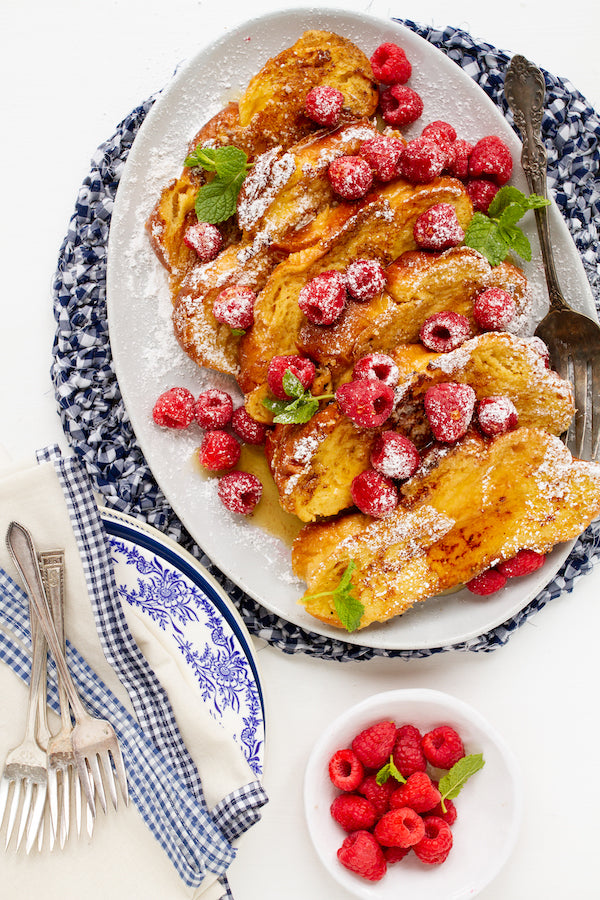 Bermudan Eggnog French Toast
serves 6 (with extra eggnog for sipping)
A little kick of Bermudan rum and just the right amount of eggs in the homemade eggnog makes this French toast extra silky and there's no need to add more eggs when cooking. 

What you need: 
Bermudan Eggnog (recipe to follow)
1 loaf Challah, cut into 1-inch slices
1/2 cup butter
Confectioner's sugar for dusting
1 pint fresh berries (I use raspberries)
Pure maple syrup, warmed
Mint for garnish (optional)
What to do: 
1. Heat a griddle until hot. 
2. Soak Bread: In a medium mixing bowl, add a cup of Bermudan Eggnog at a time and QUICKLY soak two bread slices in the egg nog. 
3. Cook French Toast: Add two tablespoons of butter to the hot griddle and add the soaked bread slices. Cook until browned on both sides and cooked through. Continue with remaining slices. Adding more eggnog as needed as you go. 
To Serve: Serve warm dusted with confectioner's sugar and berries. Serve warm maple syrup on the side. 

Bermudan Eggnog
4 large eggs, separated
1/3 cup sugar plus 1 tablespoon
1 pint whole milk
1 cup heavy cream
1/2 cup Goslings Black Seal Rum
1 teaspoon vanilla paste (can substitute vanilla extract)
2 teaspoons freshly grated nutmeg
What to do: 
1. Beat Egg Yolks and Sugar: In a bowl of a standing mixer fitted with whisk attachment, beat the egg yolks until just starting to lighten to color. Gradually add 1/3 cup sugar and beat until thick and light and the sugar has completely dissolved. Whisk in the milk, cream, rum, vanilla and nutmeg. 
2. Whip Egg Whites: In large mixing bowl, whip egg whites until they reach a soft peak. Add the remaining 1 tablespoon sugar and beat until stiff peaks form. 
3. Finish Eggnog: Fold egg whites into the egg yolk mixture. Place in refrigerator and chill for 30 minutes, stir again before serving.

Recipe by Libbie Summers
SHOP THE SCENE: 
Yachtie Linen Napkin Set
Navy Gingham Cotton/Linen Washcloth
Organic Cotton Round Placemats (Set of 4/Navy Gingham)