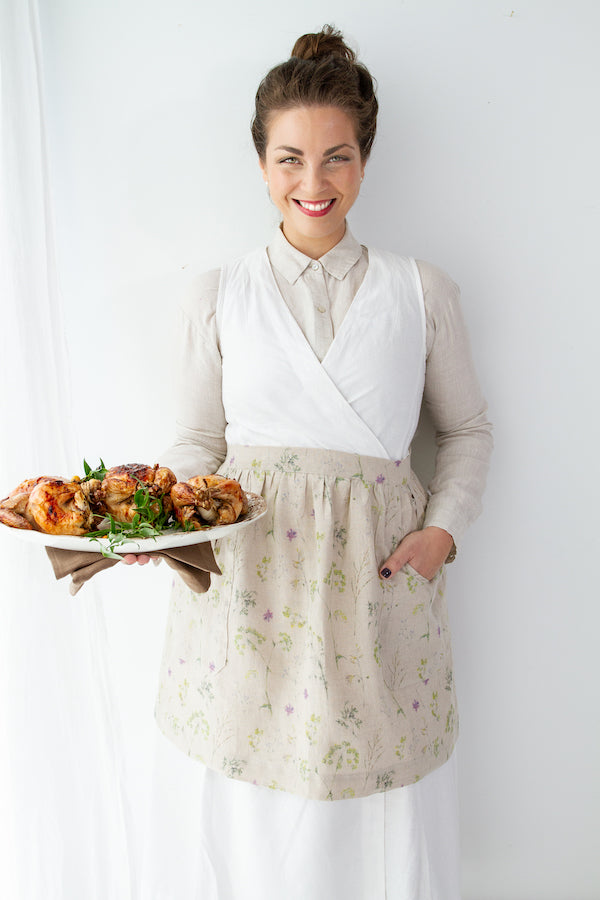 Peach Bourbon Glazed Cornish Game Hens
Serves 4 
A perfect turkey substitute (and dare I say much more delicious) if there are only a few around your table this holiday season. But if you have a crowd, double up the glaze recipe to fancy up your big bird. 

What you need: 
4 Cornish game hens, cleaned and patted dry
2 large lemons, halved
4 sprigs fresh rosemary
1 tablespoons olive oil
6 tablespoons butter, divided
1 cup peach preserves
1/4 cup Bourbon 
2 teaspoons ground cardamon 
Flake Sea Salt 
Coarsely ground black pepper

What to do: 
1. Preheat oven to 450º F.  
2. Prep Cornish Game Hens: Liberally season the cavity of the game hens with salt and pepper. Stuff a half lemon and one sprig of rosemary into each cavity. Rub game hens with olive oil. Season game hens with salt and pepper. Tie game hen legs together (if needed) with water-soaked butcher's twine. 
3. Begin Roasting Game Hens: Arrange seasoned hens in a large roasting pan and roast for 25 minutes. Reduce oven temperature to 350º F. 
4. Make Glaze: While game hens are beginning to roast, make the glaze. In a small saucepan over low heat, melt the butter. Stir in the preserves, bourbon and cardamon. Heat, stirring, until fully combined. 
5. Glaze Game Hens: Brush glaze over game hens and continue roasting, glazing every 10 minutes, until an instant-read thermometer inserted into the thickest part of the thigh registers 170º F (about 25 minutes). 
To Serve: Serve warm.
Recipe by Libbie Summers
SHOP THE SCENE: 
Cuisine Apron Dress in White Linen
Hostess Apron in Herb Linen
Shiitake Brown Linen Napkin Set