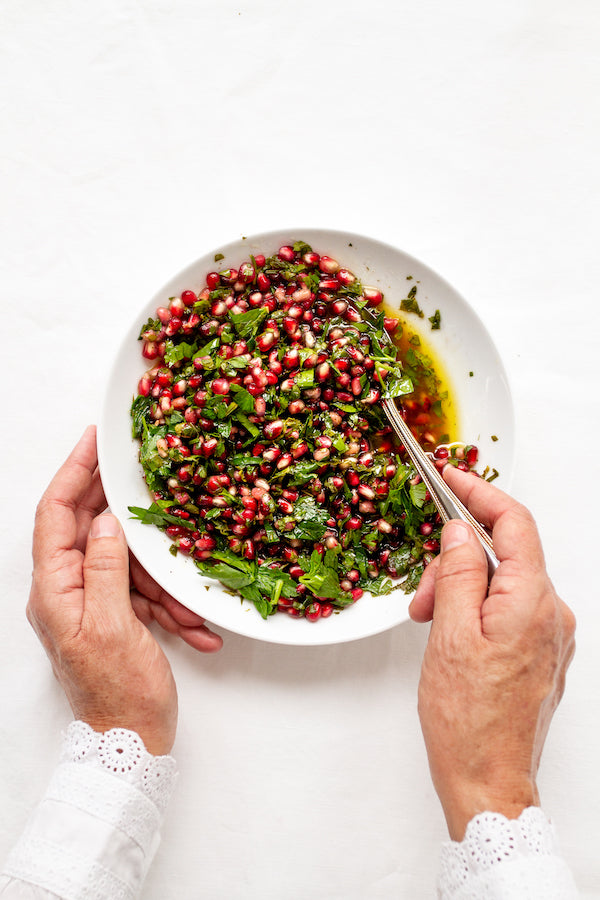 Pomegranate and Herb Relish
makes a little over 2 cups
This modern relish is delicious spooned over sliced pork tenderloin, eggs, crispy potatoes, Thanksgiving turkey and carnitas. It's sweet and just a little tart and down right beautiful. 
What you need: 
1/2 cup chopped parsley
1/2 cup chopped cilantro (can substitute more parsley if you are cilantro challenged)
2 tablespoons chopped mint
1/2 cup olive oil
juice of 2 limes
2 cups pomegranate arils (usually about two large pomegranates worth)
Flaked sea salt 
Coarsely ground black pepper
What to do: 
In a medium mixing bowl, stir together herbs, oil and lime juice. Fold in pomegranate arils. Salt and pepper to taste. Serve immediately. 

Recipe by Libbie Summers
SHOP THE SCENE: 
Charcoal Linen Napkin Set
Custom Vintage Napkin Oyster Ornaments (contact: Sydney Kiefner for custom orders of all kinds skiefner007@yahoo.com)