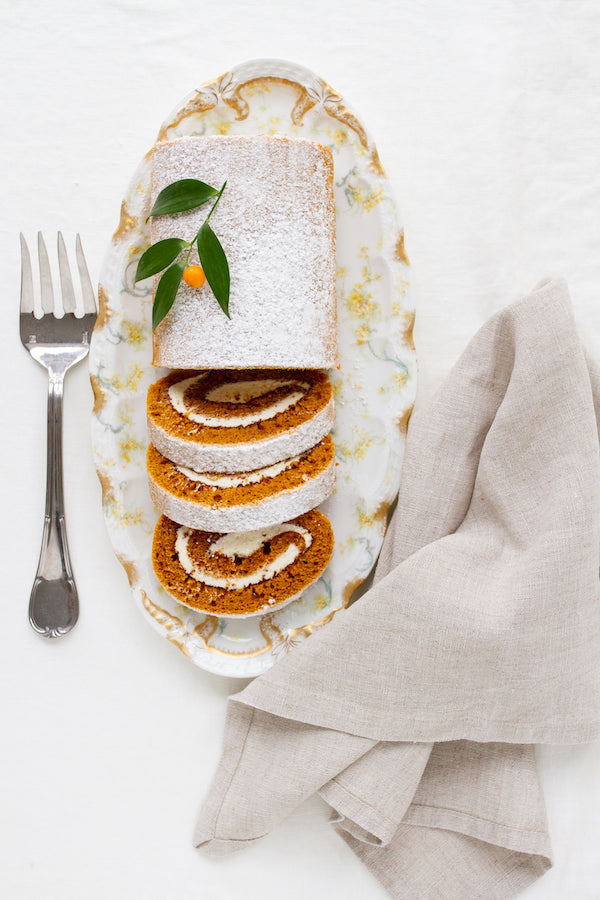 Spiced Pumpkin Roll
(thin pumpkin spiced cake + spiced cream cheese buttercream filling)
serves: 8-10
Never be intimidated by a cake roll -enough confectioner's sugar will hide any imperfections. The spice is elevated in this roll which makes it uniquely delicious. 
What you need: 
For Cake:
3/4 cup all-purpose flour plus more for dusting pan
1/2 teaspoon baking soda
1/2 teaspoon baking powder
1 teaspoon ground allspice
pinch of cayenne pepper
1/4 teaspoon salt
3 eggs, room temperature
1 cup granulated sugar 
2/3 cup pure pumpkin 
1/2-1 cup confectioner's sugar, divided (for dusting parchment paper and garnishing)

For Spiced Cream Cheese Buttercream Filling: 
12 ounces Neufchatel cheese (can substitute cream cheese), room temperature
4 tablespoons butter, room temperature
2/3 cup confectioners sugar, sifted
1/2 teaspoon pumpkin pie spice

What to do: 
1. Preheat oven to 375º F. Grease a 15 x 10-inch jelly roll pan and line bottom with parchment paper. Grease parchment paper and sides of pan and dust with flour.  

2. Mix Dry Ingredients: In a medium mixing bowl, whisk together the flour, baking soda, baking powder, allspice, cayenne and salt. Set aside. 

3. Finish Batter and Bake: In the bowl of a standing mixer fitted with a whisk attachment add the eggs and sugar. Whisk on medium-high until light in color and thick. Lower speed and whisk in the pumpkin. Whisk in the flour mixture. Spread batter evenly into the prepared pan. Bake until the top of the cake springs back when touched (about 12-15 minutes). While Cake is Baking spread out a piece of parchment paper (slightly larger than the pan size) on a work surface and sprinkle evenly with a GENEROUS amount of confectioner's sugar (this stops the roll from sticking to the paper). Remove cake from oven and use a knife to loosen the cake around the edges. Invert the pan onto the sugared parchment paper, and then carefully remove the and parchment paper from the bottom of the cake. 

4. Roll Cake: This is where folks get all freaked out and please don't! Yep, it can be a bit messy with all the confectioner's sugar but it's fun! Starting at the narrow end, roll up the cake and the parchment paper together. Allow to cool on a cooling rack. 

5. Make Filling: In the bowl of a standing mixer fitted with a paddle attachment, beat the cheese until soft and free from lumps. Beat in the butter. Beat in the confectioner's sugar and spice. 

6. Finish Cake Roll: Carefully unroll the cake. Spread the filling evenly over the cake. Reroll cake. Wrap in plastic wrap and refrigerate at least one hour.
To Serve: Garnish generously with confectioner's sugar. Slice and serve. 



Recipe by Libbie Summers
SHOP THE SCENE:
Sand Linen Napkin Set (set of 4)
White Linen Kitchen Towel with Café Latte embroidery