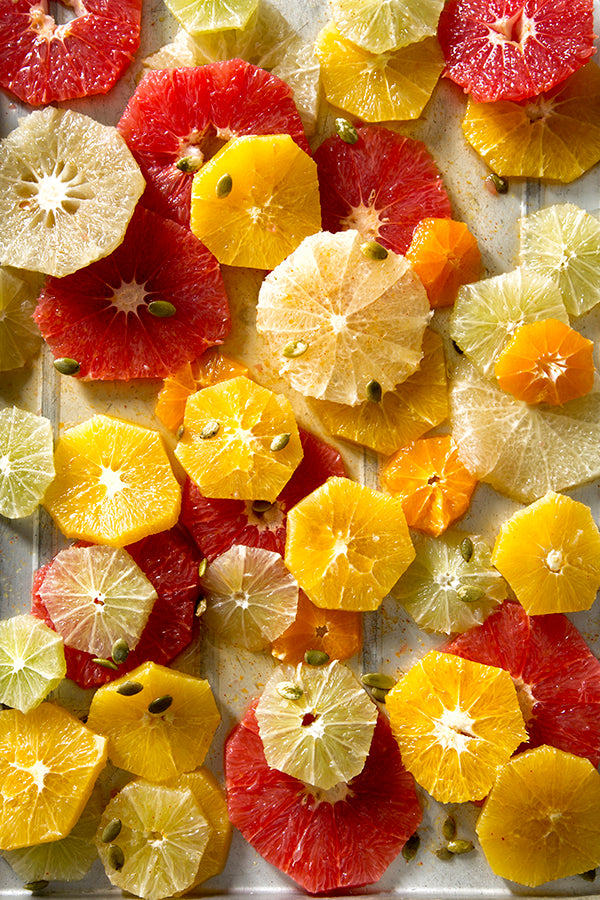 Summer Citrus Salad
serves 4
A salad that is beautiful and soul refreshing –basically everything God intended Summer months to be. 
What you need:
10 citrus fruits (grapefruit, oranges, blood oranges, clementine, lime)
1 tablespoon honey
1/4 teaspoon cayenne pepper (more if you like heat)
Kosher salt
1/3 cup pepitas (shelled pumpkin seeds), lightly toasted 
What to do:
1. Prep Citrus: Place your cutting board on a baking sheet with sides to capture all the juices as you remove the rinds of all the fruit with a sharp knife and cut each fruit crosswise into ¼-inch rounds. Remove any visible seeds. Arrange sliced fruit on a serving platter.

2. Make Dressing: In a small bowl, whisk together the reserved juices from the fruit, honey and pepper. Salt to taste.

3. Finish Salad: Pour mixture over the fruit and toss gently to coat.
To Serve: Garnish with pumpkin seeds and serve immediately.  

Recipe by Libbie Summers
Photography by Chia Chong