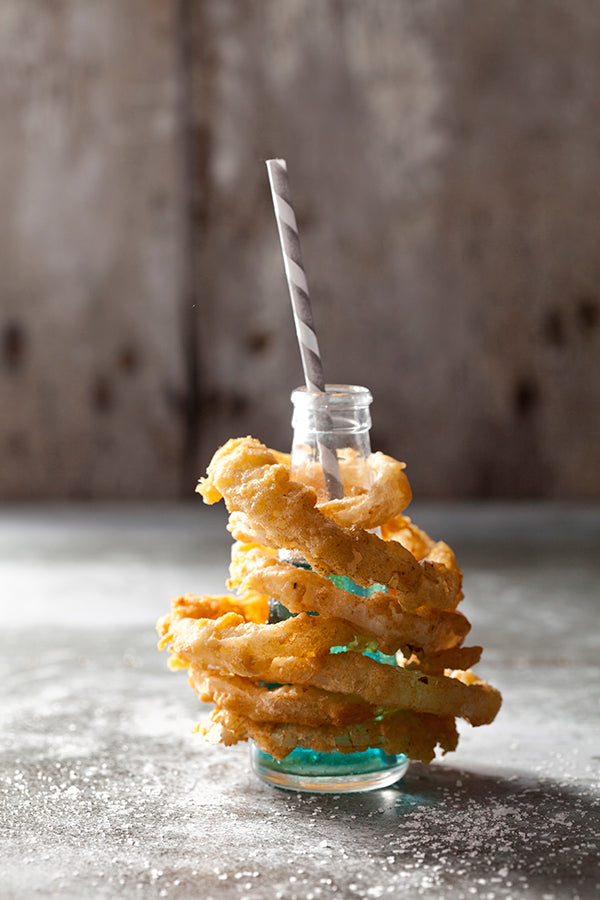 World's Best Onion Rings
serves 2

Made for me by my dearest friend Brenda as a treat after finishing the photography portion of my book, Sweet and Vicious. Exhausted, we sat on a dock over looking the Forest River at sunset and ate them without speaking. -Libbie
What you need:
1 cup self- rising flour
1 tablespoon kosher salt, divided plus more for seasoning after frying
1 ½ tablespoons garlic powder, divided
¾ tablespoon pepper, divided
1 large Vidalia onion, sliced into 1-inch thick slices with rings separated
3 eggs, beaten
6 ounces of New Castle beer (or substitute with your favorite ale)
2 1/2 cups vegetable oil
What to do:
1. Make Seasoned Flour Mixture: In a zip-top bag combine flour 1 1/2 teaspoons salt, 2 teaspoons garlic powder and 1 teaspoon pepper. Shake to combine. Set aside. 
2. Make Egg Mixture: In a medium bowl beat eggs, remaining seasonings and beer. 
3. Cook Onion Rings: Line a large plate with paper towels and set aside. Add oil to a large skillet over medium high heat and bring to 350ºF.  Dip onion rings into egg mixture, about 6 rings at a time. Then put rings into the zip lock bag and shake until well coated. Gently add the onion rings to the hot oil. Cook until golden brown on both sides (turning as needed). Remove onion rings to drain on the paper towel lined plate. While hot, sprinkle with a pinch of salt. Serve immediately.
Recipe by Brenda Anderson
Photography by Chia Chong