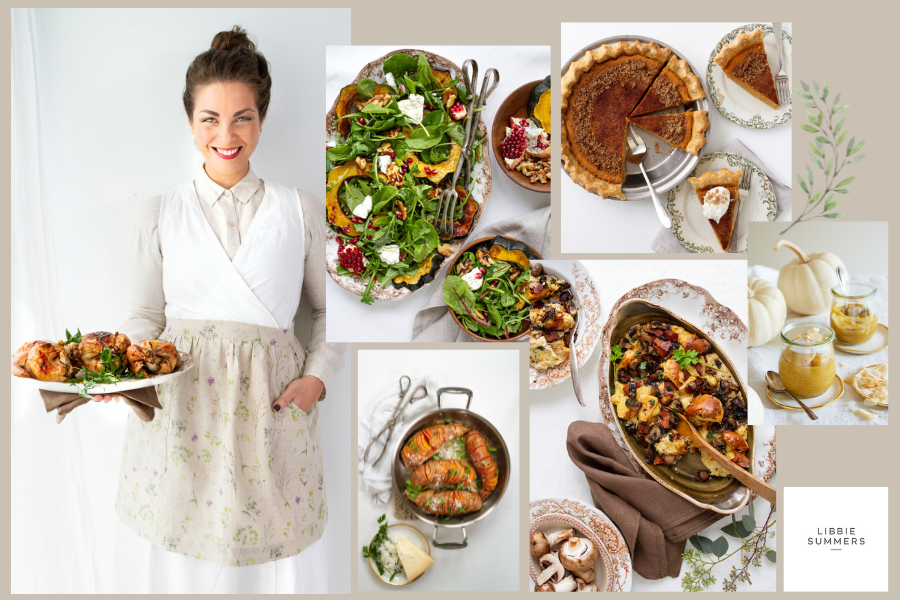 Thanksgiving flavor profiles should always be familiar, but not always delivered in the same "package". Here are six recipes to inspire your holiday table. From a different take on turkey (please know the glaze ALSO tastes great on turkey) to a dessert recipe that is light and deliciously festive. 

THE MAIN: 

Peach Bourbon Glazed Cornish Game Hens: A perfect turkey substitute (and dare I say much more delicious) if there are only a few around your table this holiday season. But if you have a crowd, double up the glaze recipe to fancy up your big bird. GET THE RECIPE HERE
Honey Glazed Acorn Squash Salad: Sliced and honey-spiced acorn squash, organic greens, pomegranate arils, salty feta and crunchy walnuts. GET THE RECIPE HERE
Savory Mushroom and Bacon Bread Pudding: Creamy, organic, salty and just a little sweet. It's everything you will ever want in a side dish. Substitute this bread pudding for your usual holiday stuffing recipe and you'll never make the other again. GET THE RECIPE HERE. 



Parmesan Herbed Hasselback Sweet Potatoes: Save the marshmallows for your hot chocolate. This is your new favorite delicious and dazzling sweet potato recipe! GET THE RECIPE HERE
THE DESSERTS:

Sweet Potato Pie: Sure the pie filling is delicious, but it's mastering the dough that will make you a champion pie baker...and it's not hard! GET THE RECIPE HERE


Vegan Pumpkin Coconut Mousse: A healthier holiday dessert that is a creamy delicious change from pie. GET THE RECIPE HERE


Recipes by Libbie Summers
Get Unique Holiday Table Setting Inspiration in our Journal
Sign up for the Newsletter for Impeccably Made Fashions for Self and Home, Recipes and Entertaining Tips. 

Click on the Image Below to Shop the Digital Holiday Collection