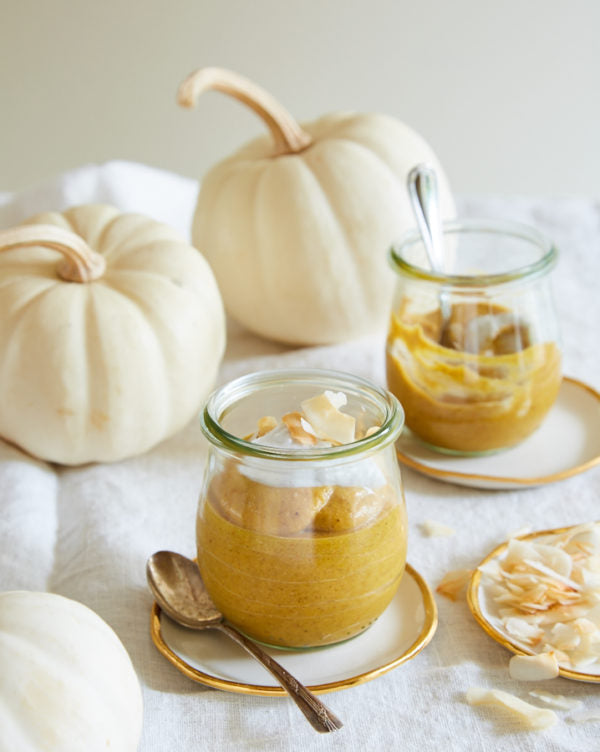 Vegan Pumpkin & Coconut Mousse
(serves 2)

What you need:
1 cup organic canned pumpkin
½ cup plus 2 teaspoons *coconut cream, divided
2 tablespoons plus 1 teaspoon agave syrup, divided
1 teaspoon plus a pinch of ground cinnamon, divided
¼ teaspoon ground ginger
¼ teaspoon ground nutmeg
pinch of salt
1 tablespoon unsweetened coconut flakes, toasted
*Can't find coconut cream? Use the cream that rises to the top of a can of coconut milk.
What to do:
1. Make The Mousse: In a small mixing bowl, whisk together the pumpkin, ½ cup coconut cream, 2 tablespoons agave syrup, 1 teaspoon cinnamon, ginger, nutmeg and pinch of salt.
2. Divide mousse between two jars, cover with plastic wrap and refrigerate a minimum of 2 hours or overnight.
3. Make The Cream Topping: Just before serving, stir together the remaining coconut cream, remaining agave syrup and remaining cinnamon.

To Serve: Place a small dollop of the topping on each jar of mousse and garnish with toasted coconut.
Recipe by Libbie Summers and Dr. Lisa Davis for Terra's Kitchen