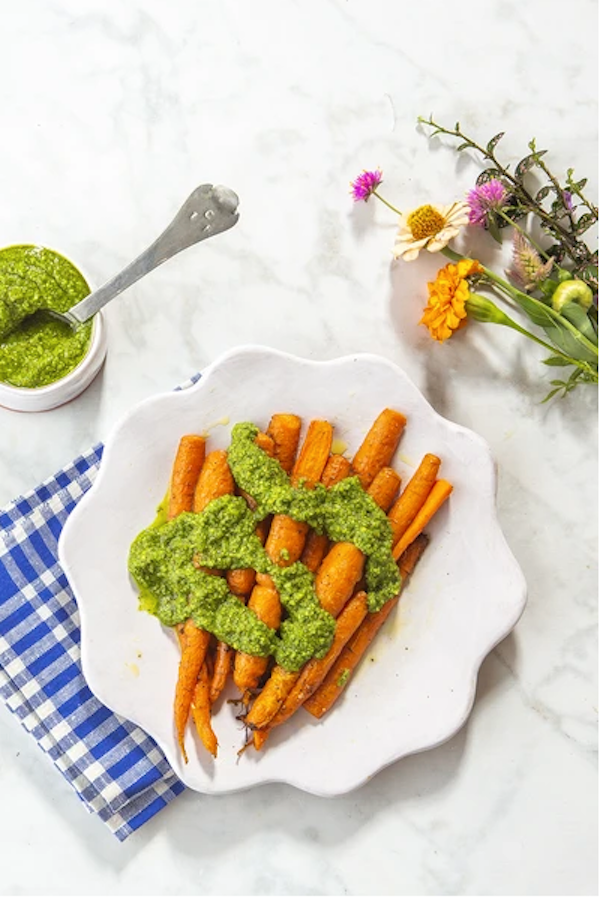 Roasted Carrots with Spinach and Herb Pecan Pesto 
Serves 4

This herby and faintly sweet pesto is DELICIOUS spooned over vegetables, grilled steaks or your morning eggs.
What you need:
For Carrots:
1 pound carrots, cleaned and tops removed (no need to peel)
2 tablespoons olive oil
Flake sea salt
Coarsely ground black pepper

For Spinach Herb Pecan Pesto:
2 cups spinach
1 tablespoon chopped chives
3 garlic cloves
2 cups packed mixed herbs (I used basil, parsley, oregano and thyme…just use whatever you have on hand)
½ cup pecans (I use Schermer Pecans)
1 cup olive oil
1 cup finely grated Parmesan cheese

What to do:
1. Prep and Roast Carrots: Preheat oven to 425ºF. Line a baking sheet with foil and set aside. Slice carrots in half lengthwise (if exceptionally fat, slice lengthwise again). Place carrots on the baking sheet and drizzle with olive oil. Sprinkle with salt and pepper. Toss to coat. Roast until JUST tender and charred a bit along the edges.
2. Make Pecan Pesto: While carrots are roasting, make the pesto. In a food processor add the spinach, chives, garlic and mixed herbs. Pulse just until roughly chopped. Add in Pecans and pulse twice. While the food processor is running, add the olive oil. Salt and pepper to taste.
To Serve: Place the warm carrots on a serving platter and spoon pesto over. Serve remaining pesto on the side. Unused pesto can be stored, refrigerated for 7-10 days.

Recipe by Libbie Summers for Schermer Pecans
Photography courtesy of Schermer Pecans
Love Southern grown pecans and family businesses like we do? Check out more pecan recipes at Schermer Pecans.