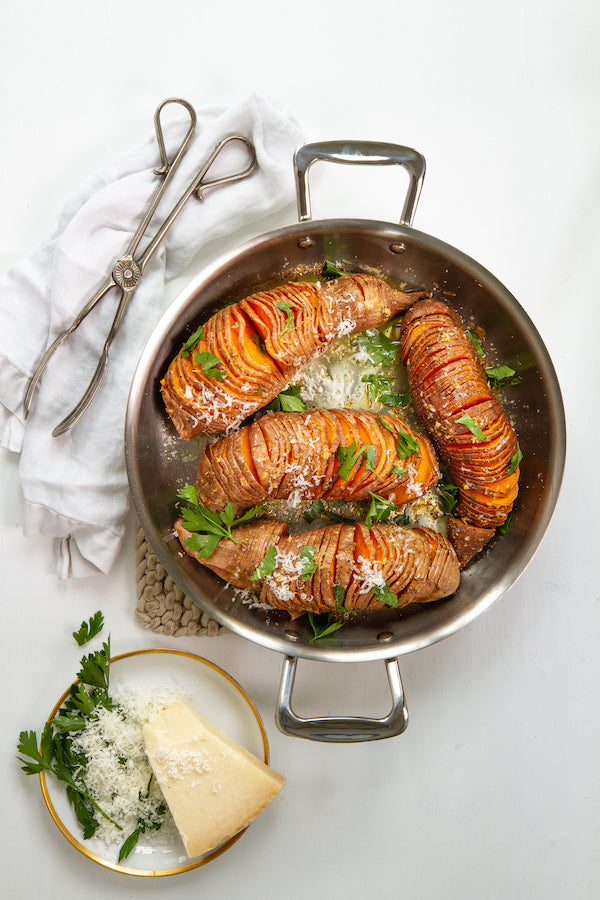 Save the marshmallows for your hot chocolate. This is your new favorite delicious and dazzling sweet potato recipe!  

Parmesan Herbed Hasselback Sweet Potatoes
serves 4-8

What you need:
4 - 8 large sweet potatoes
olive oil
Kosher salt and freshly ground black pepper
Thyme leaves and fresh parsley (really any herb combo works here!)
Freshly grated parmesan cheese

What to do:
1. Preheat oven to 425º F. Line a baking sheet with foil or lightly oil the inside of an oven safe pan. Set aside.

2. Prepare sweet potatoes: Cut a series of 1/8-inch slices (2/3 of the way through the sweet potato) along the entire length of each sweet potato. (If you're not confident in your knife skills, simply place the sweet potato between two long wooden spoon handles or a pair of chopsticks and use as a guide to prevent from cutting through the entire potato.)

3. Season potatoes: Place potatoes on the prepared baking sheet and rub generously with olive oil, toss to coat. Season aggressively with salt and freshly ground black pepper. (You can also try your favorite BBQ seasoning/rub here!) 

4. Roast potatoes: Roast until the center of the potatoes are tender and the outside crisp, about 50 - 60 minutes. Halfway through the roasting time, remove the potatoes from the oven and use a fork to gently "fan out" the slices from each other.

To serve: Sprinkle roasted sweet potatoes with herbs and shower with freshly grated parmesan cheese at the table for added flare.


Recipe by Libbie Summers for 360 Cookware