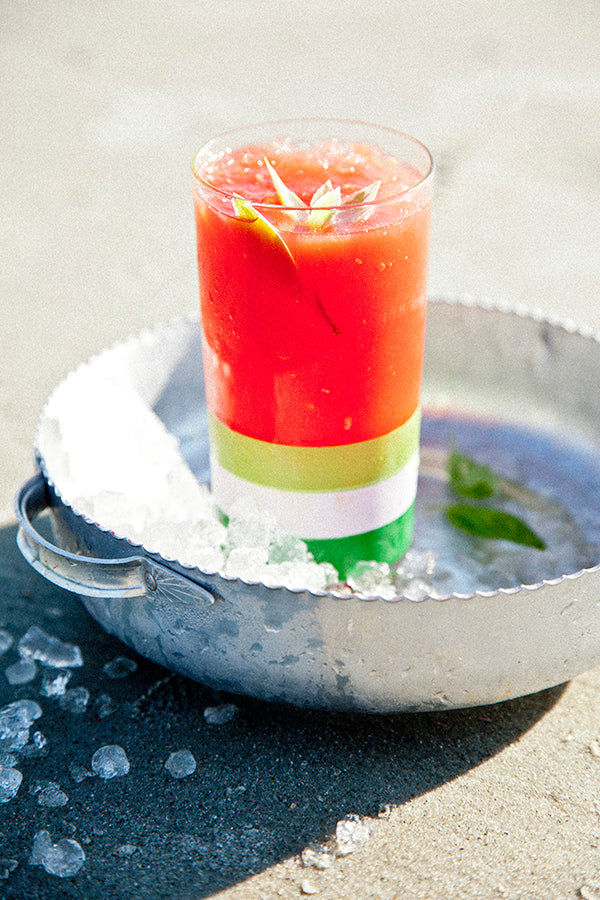 Watermelon Basil Beach Blaster
serves 6
What you need:
1 cup organic cane sugar
1 cup water
8 large basil leaves, plus more for garnish
3 pounds ripe seedless watermelon, rind removed and the flesh cut into pieces
½ cup (or more) vodka (optional)
½ teaspoon sea salt
What to do:
1. Make Basil Simple Syrup: In a small saucepan over medium-low heat, stir together the sugar and the water. Bring to a low boil and cook just long enough for the sugar to completely dissolve. Remove from heat and stir in basil leaves. Place mixture in the refrigerator for a minimum of two hours or overnight. Remove basil leaves.
2. Prep Watermelon: In a blender, puree the watermelon pieces (at this point you can strain the puree and discard the solids, but I like a thicker blaster so opt not to strain it). Pour watermelon juice (and solids if you like) into a pitcher. 
3. Finish Drinks: To the pitcher of watermelon juice, stir in basil infused simple syrup and vodka if you're feeling cheeky. If mixture is a bit too thick, you can add enough cold water to reach the consistency you like.
To Serve: Pack six glasses with crushed ice and pour mixture over. Garnish with fresh basil and a pinch of sea salt. Serve quickly.


Recipe by Libbie Summers
Photography by Chia Chong