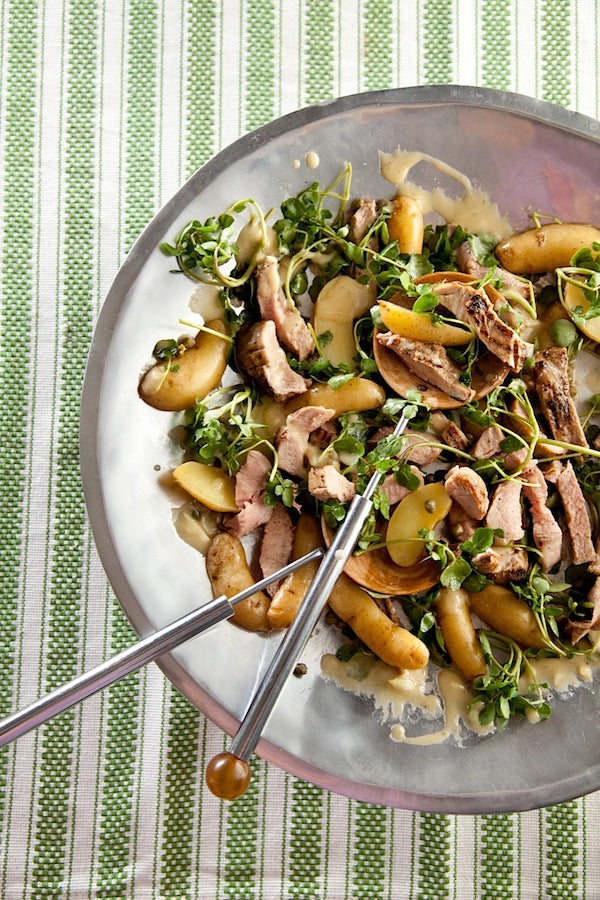 Grilled Tenderloin and Fingerling Potato Salad
(watercress, mustard vinaigrette)
serves 4
What you need:
1 pound pork tenderloin
7 tablespoons olive oil, divided
Kosher salt and freshly ground black pepper
1 pound fingerling potatoes
1 tablespoon Dijon mustard
2 tablespoons rice wine vinegar
1 garlic clove, minced
1 teaspoon honey
2 tablespoons capers, drained
1/2 bunch watercress, stemmed (can substitute arugula)
What to do:
1. Prep Pork Tenderloin: Rub tenderloin with 1 tablespoon olive oil and liberally season with salt and pepper. Set aside and allow to rest at room temperature for 20 minutes.
2. Cook Potatoes: In a medium saucepan, place the potatoes and 1 tablespoon salt. Cover with cold water and bring to a boil. Reduce heat to simmer and cook until potatoes are just tender (about 15 minutes). Drain and set aside.
3. Grill Pork Tenderloin: Heat outdoor grill or indoor grill pan to high heat. Place seasoned tenderloin on grill and cook for 8 minutes per side. Remove from grill and allow to rest for 5 minutes. Slice and place in a large mixing bowl. Set aside.
4. Make Dressing: In a small mixing bowl, whisk together the mustard, vinegar, garlic and honey. While whisking, gradually add the remaining olive oil in a slow steady stream until just beginning to thicken. Salt and pepper to taste.
5. Finish Salad: Halve potatoes (lengthwise) and add to tenderloin. Pour vinaigrette over. Add capers and watercress. Toss to coat. Serve immediately.
Recipe by Libbie Summers from The Whole Hog Cookbook (Rizzoli)
Photography by Chia Chong