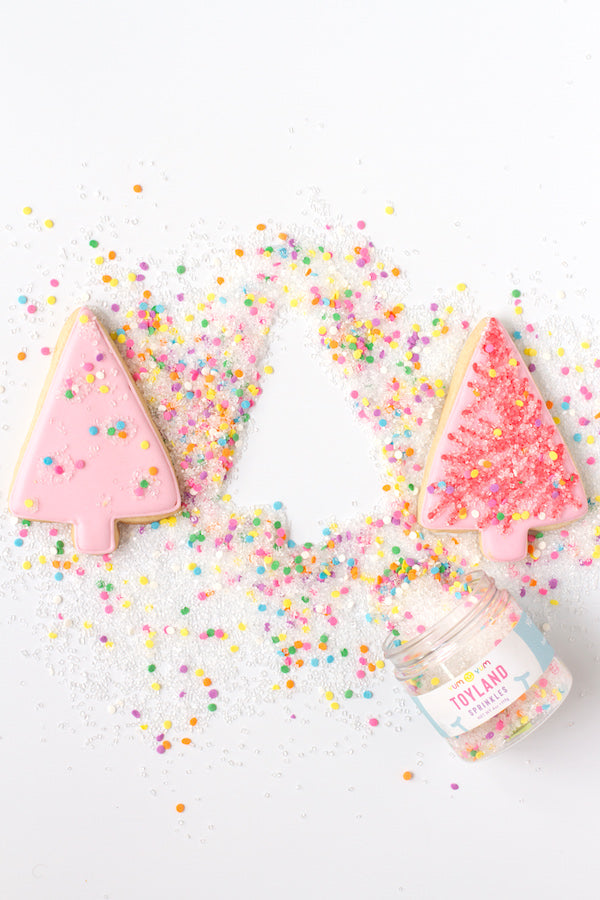 Toyland Forest Sugar Cookies
makes 3 dozen (depending on cookie cutter size)
The only cookie Santa requests each year! (winky)
What you need: 
For Cookies:
3 cups all-purpose flour (plus more for bench flour)
2 teaspoons baking powder
1/2 teaspoon salt
1 cup butter
1 cup sugar
1 egg
1 teaspoon vanilla paste
1/2 teaspoon almond extract 
For Frosting: 
3 ounces pasteurized egg whites
1 teaspoon vanilla extract
4 cups powdered sugar, sifted
Pink food coloring
For Decoration: 
Your favorite sprinkle mix. 


What to do: 
Make Cookies
1. Preheat oven to 350ºF. Line two baking sheets with parchment paper and set aside.
2. In a large mixing bowl, sift together the flour, baking powder. Set aside. 
3. In the bowl of a standing mixer fitted with a paddle attachment, cream the butter and sugar until smooth. Scrape down the sides of the bowl as needed. Beat in egg and extracts. 
4. Gradually add the dry ingredients to the wet ingredients. The dough should be stiff. 
5. Do not chill the dough...just get right into it! Lightly flour a work surface and cut off enough dough to be workable. Roll out to a 1/4-inch thickness and cut into tree shapes. Place on the prepared baking trays and bake for 6-8 minutes. 
6. Allow to cool completely before frosting and decorating with sprinkles. 
Make Frosting and Decorate Cookies:
This is a basic Royal Frosting recipe for "fancier" cookies, but we really do love a buttercream frosting for these too...maybe even better. 
1. In the bowl of a standing mixer fitted with a whisk attachment, add the egg whites and vanilla and beat until frothy. 
2. On low speed, gradually add the powdered sugar until the sugar is fully incorporated and the frosting is shiny. If too thick, add a tiny bit of water and mix. 
3. Tint with pink food coloring (start with a teeny tiny bit and increase until desired color)
4. Frost cookies using a piping bag or offset spatula and add sprinkles while frosting is still wet. 
5. Act fast and eat the cookies!!