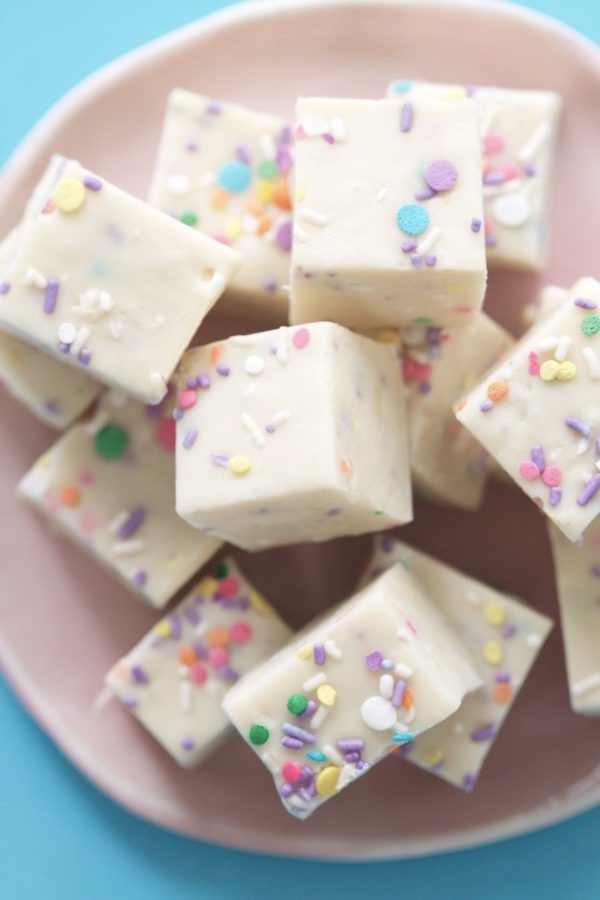 Yum Yum Bubble Gum Sprinkle Fudge
Serves 18
What you need: 
14 ounces sweetened condensed milk
2 cups white chocolate chips
2 tablespoons butter, softened
1/2 cup dry white cake mix
1 teaspoon Bubble Gum Extract (you can substitute vanilla extract)
4 tablespoons your favorite sprinkles, divided
What to do: 
1. Line a loaf pan with parchment paper leaving enough paper to hang over all sides. Spray with non-stick baking spray. Set aside.
2. In a medium saucepan over medium-low heat, stir together the sweetened condensed milk, white chocolate and butter JUST until the chocolate has melted.
3. Remove from heat and quickly stir in cake mix.
4. Stir in extract.
5. Stir in 3 tablespoons sprinkles.
6. Spoon into prepared pan. Smooth top and spoon remaining sprinkles over the top.
7. Place in refrigerator until set (about 2 hours).
8. Cut into squares and serve.