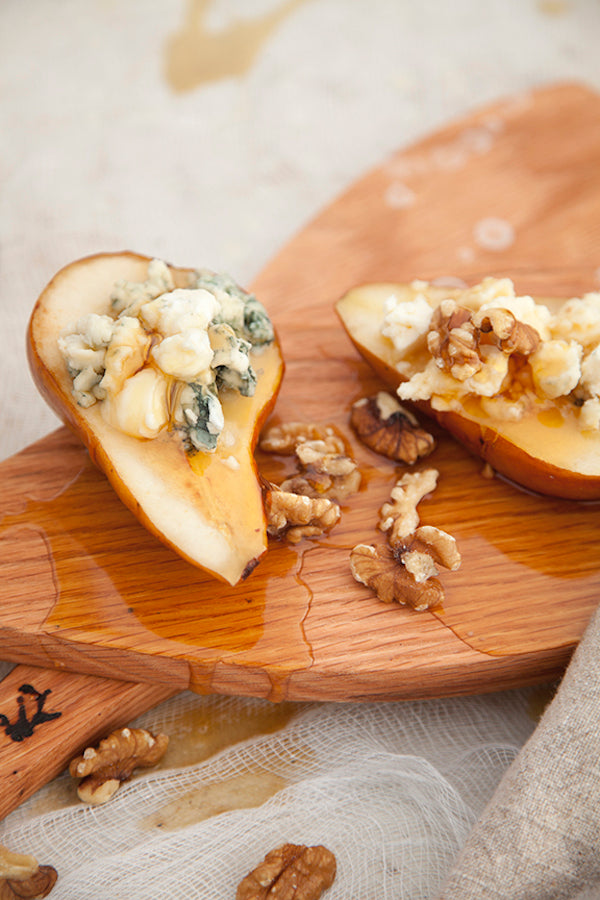 Pear and Honey Appetizer
serves 4
The best ingredients are what make this simple appetizer extraordinary. Just picked pears, creamy pungent cheese, flavorful honey and a crunchy nut finish. 


What you need: 
2 ripe pears 
4 ounces good quality blue cheese (I use Maytag Dairy Farms) 
Sourwood or Tupelo Honey (I use Savannah Bee honey)
Walnut pieces
What to do: 
1. Prep Pears: Cut pears in half from stem to stern (lengthwise). Core out seeds. Slice a small piece of the pear from the underside (non cut side) at the widest part. This will help the pear to lay flat. 
To Serve: Place one pear half (cut side up) on 4 small cutting boards or appetizer plates. Top each pear half with pieces of blue cheese and a heavy drizzle of honey. Sprinkle walnuts over. Serve immediately. 

Recipe by Libbie Summers
Photography by Chia Chong
SHOP THE PHOTOS
Skirt: Everyday Beautiful A-line Wrap Skirt in Vine Green
Headscarf: Brigitte Headscarf in Indigo Chambray Linen