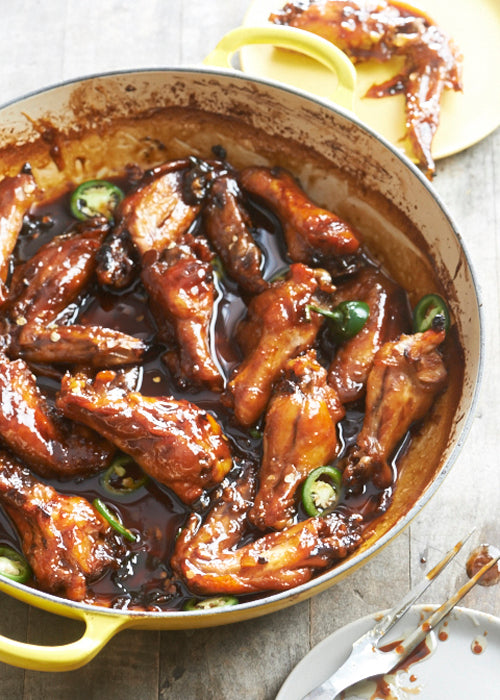 Sticky Toffee Chicken Wings
makes 24 pieces
Basically the only thing you need to know about sports. 
What you need:
12 chicken wings (about 3 pounds)
1 cup dark brown sugar
4 tablespoons unsalted butter
1/3 cup fresh lime juice (about 4 medium limes)
2 tablespoons soy sauce
1/4 cup fish sauce
1 tablespoon fresh grated ginger
1 jalapeno pepper, thinly sliced, plus more for garnish

What to do: 
1. Preheat the oven to 300º F.

2. Prep Wings: At the joint separating the drumette from the wingette, cut each of the chicken wings in half. Cut the tip off each wingette. Set the drumettes and wingettes aside and discard the tips.

3. Finish Wings: In a large oven-safe pan (I use a large ceramic braiser, a casserole dish also works) combine the rest of the ingredients and cook the mixture over low heat, stirring, just until the butter has melted and the sugar has begun to dissolve. Remove from the heat, add the chicken pieces and toss to coat. Arrange the coated chicken pieces in a single layer in the pan and bake, uncovered, for 1 hour. Increase the temperature to 450º F and bake 20 to 25 minutes longer or until the sauce is reduced and the drumettes and wingettes are thickly glazed. During baking, turn the wings a few times so they get a proper gooey coating.

To Serve: Garnish with jalapeño slices and serve warm.


Recipe by Libbie Summers from her book Brown Sugar (shortstack editions)
Food Photography by Andy Lyons