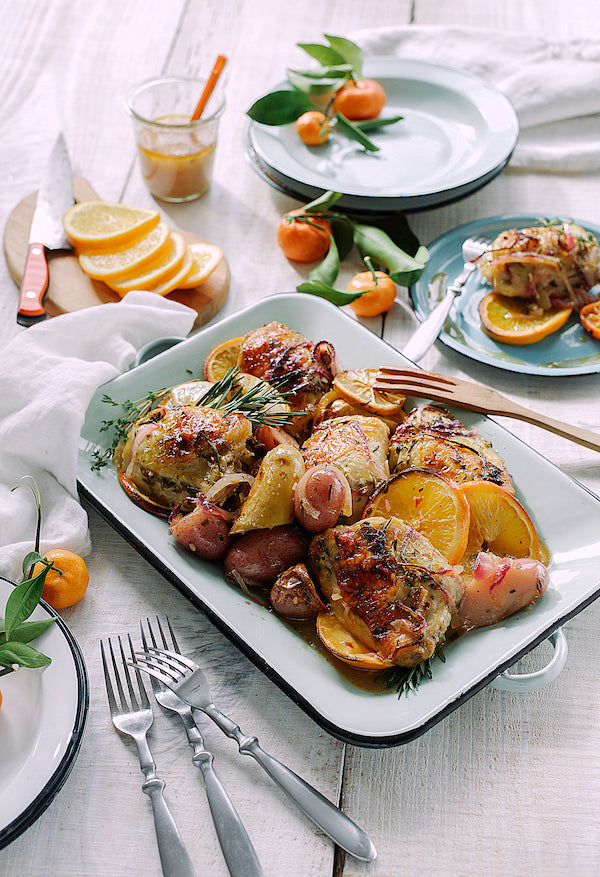 One Pan Citrus Chicken and Potatoes (aka Pucker Up Chicken)
serves 6
What you need:
1/3 cup olive oil
4 cloves of garlic, minced
2 tablespoons brown sugar
3 whole lemons, 2 juiced and one sliced, divide
3 whole oranges, 2 juiced and one sliced, divided
1 teaspoon paprika
1 teaspoon onion powder
1/4 teaspoon crushed red pepper flakes
2 teaspoons chopped fresh thyme, plus more for garnish
2 tablespoons roughly chopped fresh rosemary, plus more for garnish
Flake sea salt (I use Maldon)
Freshly ground black pepper
12 pieces (about 5 lbs.) bone-in skin on or skinless chicken thighs, patted dry
1 medium red onion, thinly sliced
12 fingerling potatoes
Crusty Bread for serving
What to do:
1. Preheat oven to 400ºF.

2. Mix "dressing": In a small mixing bowl whisk together olive oil, garlic, sugar, lemon juice, orange juice, paprika, onion powder, red pepper flakes, thyme, rosemary, 2 teaspoons salt and 1 teaspoon pepper.
3. Dress Chicken and Potatoes: Place chicken, sliced onion and fingerling potatoes in a roasting pan with sides large enough for them to lay in a single layer. Pour olive oil mixture over and use your hands to toss to coat. Tuck lemon and orange around and under the chicken. Sprinkle all over generously with salt and pepper.
4. Bake Dish: Bake uncovered until chicken juices run clear when pierced with a fork or instant-read thermometer inserted in the chicken registers 160° (about 45 minutes). 

To Serve: Transfer to a serving platter and garnish with additional chopped fresh herbs. Serve with crusty bread for dipping. 


Napkins: White Linen Kitchen Towel with Pink Café Latte Embroidery
Recipe and Styling: Libbie Summers
Photography: Cedric Smith
Keep the Citrus-inspired Soiree going for your dinner party! 
Sliced Orange Centerpiece
Buttermilk Citrus Bundt Cake