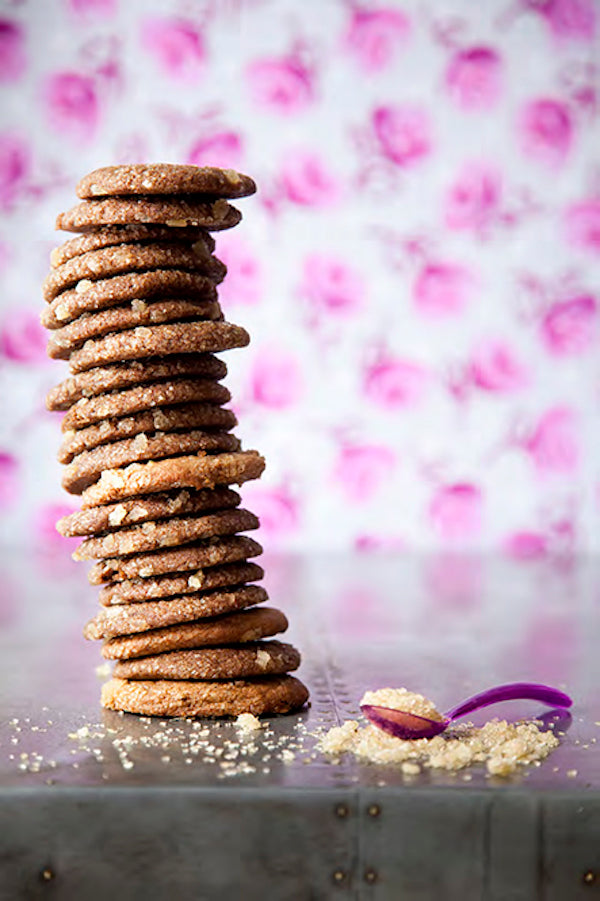 By Libbie Summers from Sweet and Vicious–baking with attitude, Rizzoli
Photography by Chia Chong
Jacked-up Ginger Cookies
(three times the ginger)
yields 30 cookies
What You Need:
2 1⁄4 cups all-purpose flour
3 teaspoons ground ginger
1 teaspoon baking soda
1⁄4 teaspoon salt
3⁄4 cup (1 1⁄2 sticks) butter, at room temperature
1 cup packed dark or light brown sugar (either works great)
1 large egg
1⁄4 cup molasses
1 1⁄2 tablespoons minced fresh ginger
1⁄2 cup turbinado sugar I use Sugar in the Raw—just lift an extra packet each time you visit a coffee shop . . . it will take 12 visits.
1⁄4 cup minced crystallized ginger
What To Do:
In a medium mixing bowl, whisk together the flour, ground ginger, baking soda, and salt and set aside.
In a large bowl, use a hand mixer to cream together the butter and brown sugar until smooth. Beat in the egg and molasses. Gradually mix in the flour mixture. Mix in the fresh ginger. Cover and refrigerate the dough for at least 2 hours, or overnight. (The dough is like gingerbread on steroids. Give it a taste. Trust me.)
Preheat the oven to 350° F. Line a baking sheet with parchment paper and set aside.
In a small mixing bowl, stir together the turbinado sugar and crystallized ginger. Shape the dough using a small portion scoop into 1 1⁄2-inch balls and roll the balls in the turbinado sugar mixture. Place them 2 inches apart on the prepared baking sheet and bake for 10 to 12 minutes, until lightly browned. Let cool and serve.