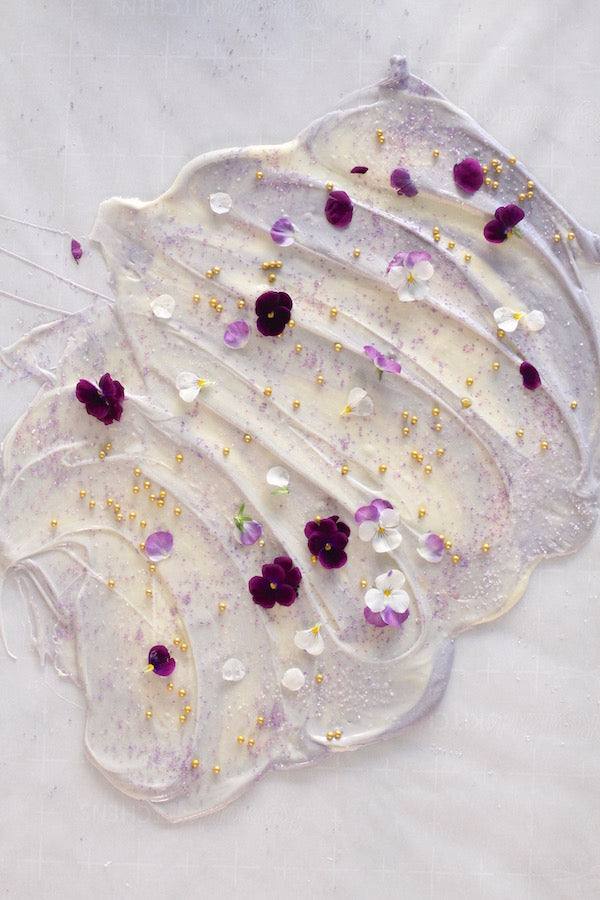 Beautiful Candy Bark
(makes 24 servings)
What you need:
2 (11 ounce) packages Ghirardelli white chocolate chips, melted (I used a double boiler)
Food coloring gel, I used purple
Sprinkles or colored sanding sugars (I used light and dark purple sanding sugars and gold dragees. NOTE: It will only take a tablespoon of each)
Edible Flowers (I used violas)
What to do:
1. Prep: Line a baking sheet with parchment and set aside. Have all your toppings ready.
2. Divide: Divide melted chocolate into two bowls. One will have 2/3 of the melted chocolate and the other will have 1/3.
3. Color: Add just enough food coloring into the smaller amount of melted chocolate until tinted the color you would like.
4. Spread: WORKING QUICKLY, spread the white chocolate out on the prepared baking sheet. Next, drop dollops of the tinted chocolate on top of the white. Using an offset spatula, swirl the two together.
5. Decorate: AGAIN, WORKING SUPER QUICKLY. Decorate with your sprinkles, sanding sugars and edible flowers before the chocolate starts to harden.
6. Break: Allow the bark to set until completely hardened (about 20 minutes) then lift off the parchment and break apart into pieces.
NOTE: If using edible flowers, Beautiful Candy Bark is best eaten within 24 hours. If not, bark will be good for up to one week. Honestly, you don't even have to store in an airtight container. We just leave ours on the kitchen counter for nibbling.
Need more help? Watch the video!