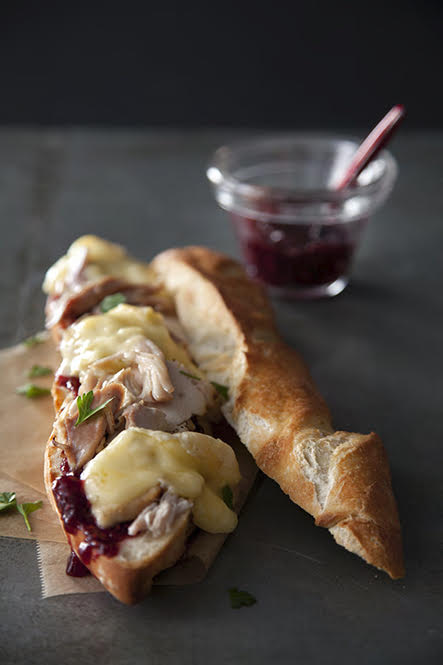 Monet's Favorite Sandwich
(warm roasted turkey, brie + raspberry and cranberry preserves on baguette)

Serves 4What you need:

¼ cup cranberry sauce
¼ cup raspberry preserves

1 baguette, sliced in half lengthwise

12 ounces roasted turkey, sliced or torn into large pieces

4 ounces brie, cut into chunks
chopped parsley, optional
What to do:

1. Preheat oven to broil.

2. In a small bowl, stir together the cranberry sauce and raspberry preserves. Set aside. 

3. Place the bottom half of the bread on a baking sheet (cut side up). Spread preserve mixture over the bread. Top with turkey. Top turkey with chunks of brie.

4. Broil just until the brie has melted (about 3-5 minutes). 


To Serve:
Garnish warm sandwich with parsley. Place top half of the bread on the sandwich (or eat open face) and cut into four equal pieces. Serve warm.