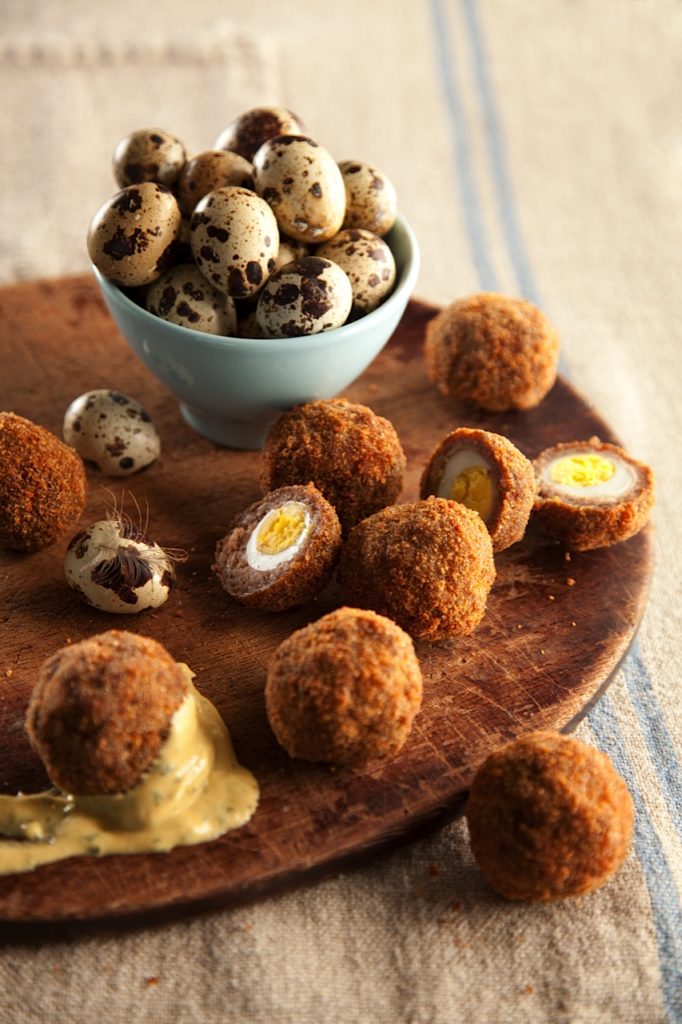 By Libbie Summers (from The Whole Hog Cookbook by Libbie Summers, Rizzoli)
Photography by Chia Chong
Scotch Quail Eggs with Tarragon Mustard Dipping Sauce
makes 20
What you need:
20 quail eggs
1 tablespoon vinegar
1 teaspoon sea salt or kosher salt, plus more for sprinkling
1 pound freshly ground pork sausage or pork breakfast sausage
2 cups all-purpose flour
4 large chicken eggs, beaten together with 1⁄4 cup water
3 cups dried bread crumbs
Peanut oil for deep-frying
Tarragon Mustard Dipping Sauce (recipe follows)
What to do:
Fill a large mixing bowl two-thirds full of ice water and set aside.
Carefully put the quail eggs in a medium saucepan and cover them with cold water. Add the vinegar and salt. Bring to a boil, immediately lower the heat, and simmer for 3 minutes. Drain the hot water from the eggs. Put the eggs in the ice water and let them cool completely, for 8 to 10 minutes. To peel the eggs, gently roll them on a hard surface to crack the shell all over. Beginning with the rounder end, peel off the shell. Be patient. Pat dry with a paper towel and set aside.
Line a baking sheet with waxed paper and set aside.
Have four bowls ready. Fill the first bowl with sausage, the second with flour, the third with beaten egg mixture, and the fourth with bread crumbs.
Flatten 1 heaping tablespoon of sausage into a disk in the palm of your hand. Dredge a hard-boiled quail egg in the flour. Shake off any excess flour. Place the egg in the center of the sausage disk and mold the sausage around it, making sure the entire egg is covered. Dip it into the egg mixture, then roll it in the bread crumbs. Put it on the prepared baking sheet and repeat with the remaining quail eggs. Chill the eggs for 30 minutes.
Line a baking sheet with paper towels and set aside.
Heat at least 4 inches of oil in a deep-fryer or Dutch oven to 360 ̊F. Working in batches, gently slide the chilled eggs into the hot oil and fry for 3 to 4 minutes, turning, until golden brown. Remove the eggs to the paper towel–lined baking sheet to drain. Sprinkle with salt. Serve warm with Tarragon Mustard Dipping Sauce.
Tarragon Mustard Dipping Sauce
yields 1 1/4 cups
What you need:
1 cup Dijon mustard
1/4 cup mayonnaise
2 tablespoons chopped fresh tarragon
1 tablespoon rice vinegar
Kosher salt Freshly ground black pepper
What to do:
Combine the mustard, mayonnaise, tarragon, and vinegar in a small mixing bowl. Salt and pepper to taste.