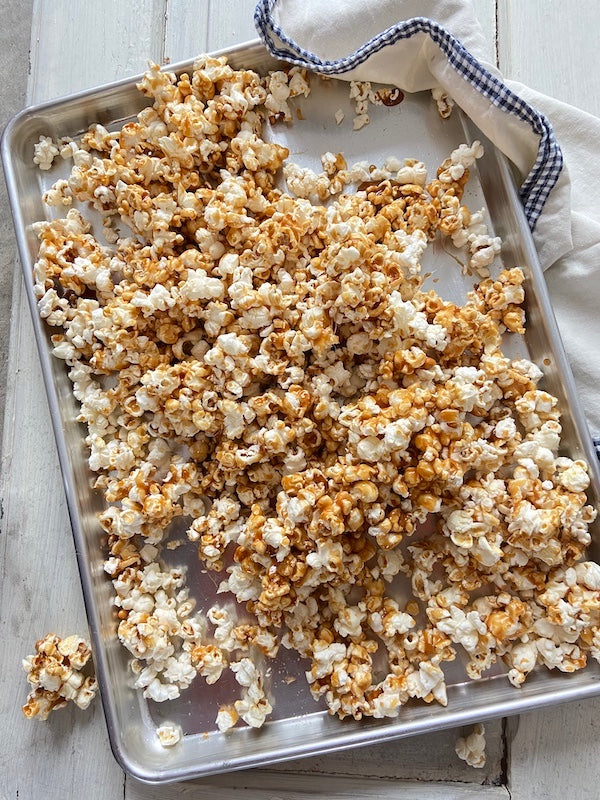 Making caramel corn is really an easy thing to do. The most important tip is to start with very good popcorn and if you can...make your own brown sugar. 

Caramel Corn
makes 10 cups
What You Need:
3 tablespoons vegetable oil
1⁄2 cup popcorn kernels
1 cup light brown sugar
1⁄2 cup corn syrup
4 tablespoons unsalted butter
1⁄4 teaspoon cayenne pepper
1⁄2 teaspoon salt
What To Do:
Preheat the oven to 250°. In a medium saucepan with a tight-fitting lid, add the oil and 2 popcorn kernels. Cook over high heat until the kernels pop, then add the remaining popcorn, cover and lower the heat to medium-high. Cook until the kernels stop popping, shaking the pan often. Discard any unpopped kernels and spread out the popcorn on a large, deep, nonstick, rectangular cake pan or lasagna casserole dish (I use a 14-by-10-by-4-inch nonstick cake pan). If you use a pan that isn't nonstick, grease it with butter or nonstick cooking spray first. Toss the popcorn with the peanuts and place the pan in the preheated oven to keep warm.
Attach a candy thermometer to the side of a medium sauce- pan over medium heat (or use an instant read thermometer to check temperatures along the way) and add the brown sugar, corn syrup, butter, cayenne pepper and salt. Stir until the mixture comes to a boil. Allow the mixture to cook until the temperature of the candy reaches 260° to 275° on the candy thermometer, about 15 minutes.
Working quickly, remove the popcorn and pour the hot syrup mixture in a fine stream over the popcorn to cover
it evenly. Using a nonstick spatula, carefully toss to coat. Return the pan to the oven for 10 minutes, mixing every couple of minutes to evenly coat the popcorn and peanuts. Remove the pan from the oven and let the mixture cool to room temperature before storing in an airtight container. The Homemade Caramel Corn will keep for up to 10 days.
Note: 1 tablespoon of popcorn kernels yields just over 1 cup of popped corn.
Warning: Do not use microwave popcorn...ever.
Shop the Scene: 
Recipe by Libbie Summers (from Brown Sugar by Libbie Summers, Short Stack Editions)
Napkins: Yachtie Linen Napkin Set
Apron: Chamber Apron in Lilac Linen