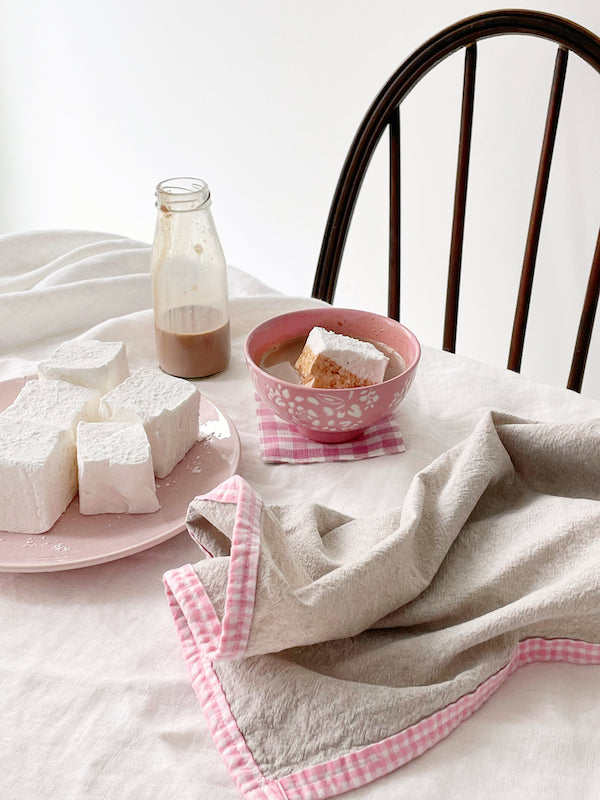 Honey is magic! These mega marshmallows (made with honey instead of corn syrup) floating atop your favorite sipping chocolate are damn near as close to God as you can get. PS They make a uniquely perfect hostess gift. 
Homemade Tupelo Honey Marshmallows
makes 16-25 mega marshmallows
What you need: 
1 1/2 cups water, divided
3 1/2 tablespoons of unflavored gelatin (4 envelopes)
2 cups sugar (I use vanilla sugar)
2/3 cup Savannah Bee Tupelo Honey, or your favorite honey varietal 
1/2 teaspoon honey extract, can substitute vanilla paste or extract
1/2 cup powdered sugar
1/2 cup corn starch
What to do: 
1. Prepare a 9x9 metal baking pan with non-stick cooking spray or softened butter. Set aside. 
2. Bloom Gelatin: In the bowl of a standing mixer, add 3/4 cup water and sprinkle the gelatin over the top. Stir to combine until the gelatin is completely wet. Attach the whisk attachment to the mixer and allow the mixture to set. 
3. Heat Sugar and Honey: In the bowl of a medium sauce pan over medium-high heat, stir together the remaining 3/4 cup water, sugar and honey. Stir to help dissolve sugar, but once the mixture begins to boil stop stirring. Heat the mixture until it registers 240ºF on an instant read thermometer or candy thermometer. (PRO TIP: BUY YOURSELF AND INSTANT READ THERMOMETER. It's a game changer for baking/cooking. My favorite is the Thermapen ONE made by ThermoWorks. Bonus, it comes in pink and orange!)
4. Whip Mixture: Remove honey mixture from the heat and carefully pour into the standing mixer bowl with the gelatin. Allow to sit for 1 minute and then (beginning on low speed) begin to whip the mixture. Gradually increase speed to high after the honey mixture is incorporated well. Whip for 12 minutes! Your marshmallow mixture will be doubled in size. DO NOT SCRAP DOWN THE SIDES OF THE BOWL. 
5. Finish Marshmallow Mixture: Add the honey extract or vanilla extract and whip until incorporated. Spray a spatula with non-stick cooking spray and use it to scrape the marshmallow mixture into the prepared pan. Smooth the top. Cut a piece of film wrap to cover the mixture and spray it with non-stick cooking spray. Place it over the marshmallows and seal the edges. Allow the marshmallow to set at room temperature 6-8 hours or overnight. 
6. Cut Marshmallows: In a shallow dish, whisk the powdered sugar and cornstarch together. Dust your work surface with some of the cornstarch mixture and turn your marshmallows out onto the surface. Dust the top with the cornstarch mixture. Spray a large serrated knife with non-stick cooking spray. Cut the marshmallows into 4 or 5 strips (depending on how mega you want them) and then cut each strip into 4 or 5 squares. Toss each marshmallow into the cornstarch/powdered sugar mixture and coat well.
Store in an airtight container for up to two weeks. 

Recipe by Libbie Summers 
Shop the Scene: 
Napkin: French Picnic Linen Napkin Set in pink gingham