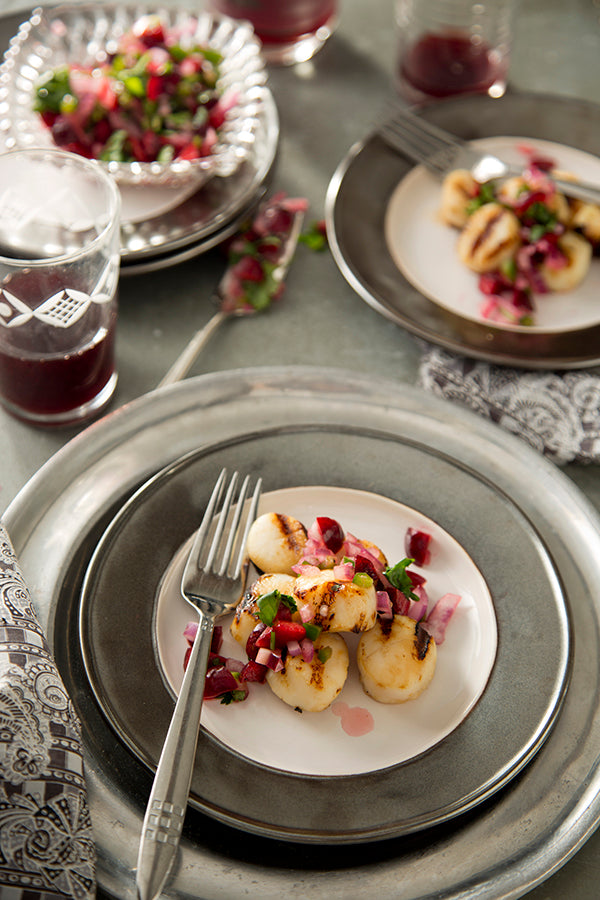 Grilled Scallops and Cherry Salsa
A quick sweet hot salsa working its magic with grilled tender scallops. Also delicious spooned over your favorite grilled meats or fish. 
serves 4
What you need:
1 1/2 pounds fresh cherries, pitted and diced
1/2 jalapeno, finely diced (remove seeds if you like less heat)
1/2 medium red onion, finely diced
1/4 cup chopped cilantro
Juice of 2 limes
Kosher salt and freshly ground black pepper
2 pounds sea scallops 
What to do:
1. Prep: Heat a grill pan or outdoor grill to high heat.
2. Make the Salsa: In a medium mixing bowl, stir together the cherries, jalapeno, red onion, cilantro and lime juice. Toss to coat. Salt and pepper to taste and set aside.
3. Cook the Scallops: Dry the scallops COMPLETELY and salt and pepper. Place the dry scallops on the hot grill and grill just until charred and just cooked through (about 3 minutes). Turn and cook another 3 minutes. Divide scallops evenly among 4 plates and top each with a heaping spoonful of salsa.
Recipe By:
Libbie Summers
Photography By:
Chia Chong