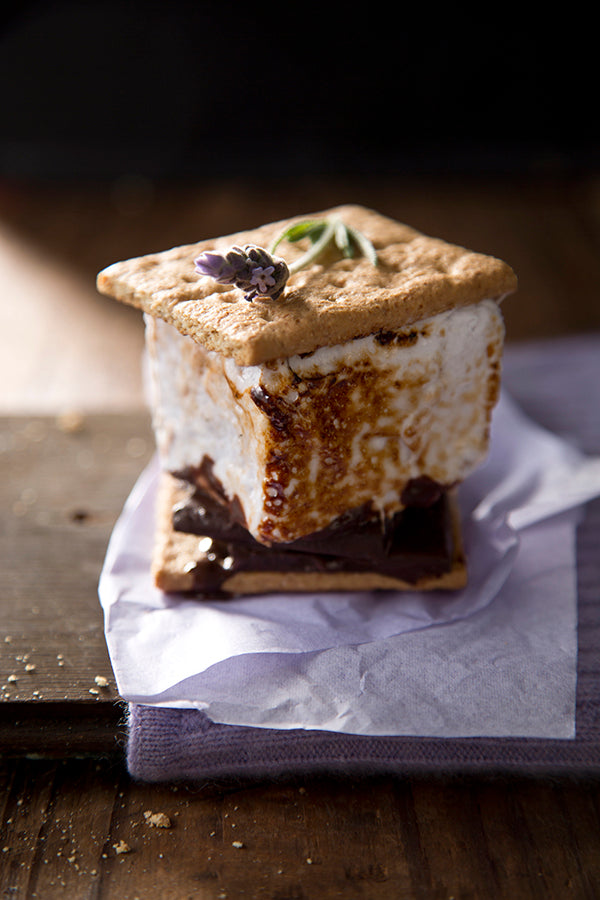 Adult S'mores
lavender marshmallows and dark chocolate
Serves 6
What you need:
6 Lavender Marshmallows (recipe to follow)
1 high quality bar of dark chocolate, broken into 6 squares
6 graham crackers, broken into two squares each (12 squares)
6 sticks (2-3 feet long)
What to do:
1: Push one marshmallow onto each stick and heat until toasty and browned over an open fire (campfire, grill or gas burner).
2: Place one square of chocolate on 6 of the graham cracker square.
3: Top each with a hot marshmallows and another graham cracker. Squish and eat. 
Lavender Marshmallows
Makes: 16 Extra-Large Marshmallows
What you need:
1/2 cup corn starch
1/2 cup powdered sugar
1 cup cold water, divided
3 (1/4-ounce) packets unflavored gelatin
2 cups sugar
2/3 cup light corn syrup
1/4 teaspoon salt
1 1/2 teaspoons lavender extract
lavender food coloring

What to do:
1. Lightly coat an 8×8 baking pan with non-stick cooking spray and set aside. 
2. Prep: In a small bowl, sift together the corn starch and powdered sugar. Use half of the mixture to coat the sprayed baking pan. Set aside. 
3. Prepare your Gelatin: Pour 1/2 cup cold water into bowl of standing mixer fitted with whisk attachment. Sprinkle the gelatin over the water and let stand until gelatin softens and absorbs water (about 15 minutes).
4: Dissolve your sugars: In a heavy saucepan over medium-low heat, add the remaining 1/2 cup cold water, sugar, corn syrup and salt. Stir mixture until the sugar dissolves, you may need to brush the inside of the pan with a wet pastry brush if sugar crystals begin to form. Clip a candy thermometer to the side of the pan and increase the heat to medium-high. Boil the mixture, without stirring, until the temperature reaches 240 degrees F (about 8-10 minutes).
5. Whip the Marshmallows: Turn on the standing mixer to a low speed and gradually add the hot syrup to the gelatin mixture (pour it down the sides of the bowl and not on the whisk). Gradually increase the speed to high and beat until the mixture becomes super thick (about 15 minutes). Add lavender extract and just the smallest bit of lavender food coloring to tint the mixture. Beat for another 30 seconds or until it's all incorporated. 
6. Rest the Marshmallows: Scrape the mixture into the prepared pan. Use a wet offset spatula to smooth the top. Do not cover and let stand at room temperature overnight.
7. Cut the Marshmallows: Dust the top of the marshmallows with some of the remaining cornstarch and powdered sugar mixture and use the rest of the mixture to generously dust a work surface with. Turn the marshmallow slab out of the pan and onto the dusted work surface. Using a sharp chef's knife, cut the square into 4 strips. Then cut the 4 strips into 4 separate squares so you have 16 big thick marshmallows. Don't worry if you have to squish the marshmallows a bit while you cut them, they spring right back. Toss the marshmallows in any remaining cornstarch powdered sugar mixture you have left. Place on a plate and allow to continue to dry at room temperature. When the marshmallows are completely dry, place in an airtight container. Keep reading for our Adult S'mores Recipe
Recipe By:
Libbie Summers
Photography By:
Chia Chong