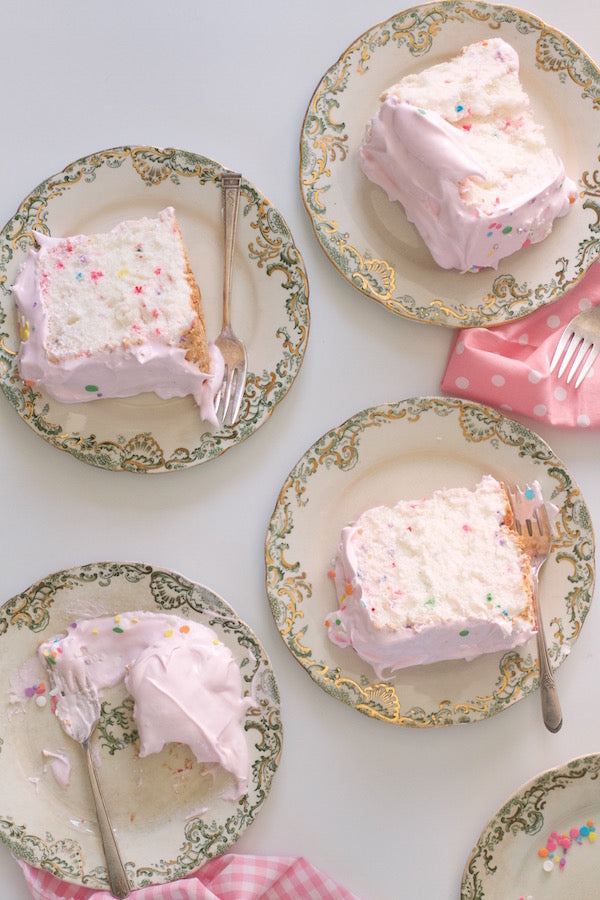 Sprinkle Angel Food Cake with Pink Cloud Frosting
Serves 12

What you need:
1 cup cake flour, sifted
1/4 teaspoon salt
1 3/4 cup super fine vanilla sugar*, divided (can sub regular sugar. For super fine sugar, process in a food processor for 1-2 minutes)
1 dozen egg whites, room temperature
1 1/2 teaspoons cream of tartar
1 teaspoon vanilla extract
1/4 cup sprinkles (use your favorite colors)
Pink Cloud Frosting (recipe to follow)
1 tablespoon Spring Break Sprinkles for garnish

What to do:
1. Preheat oven to 350ºF.

2. Mix Dry Ingredients: In a medium size bowl, whisk together the flour, salt and half of the sugar. Set aside.

3. Whip Egg Whites: In the bowl of a standing mixer fitted with a whisk attachment, add the egg whites, 1/3 cup warm water, cream of tartar and vanilla extract. Beat the mixture just until foamy. With the mixer running, slowly add in the reserved sugar. Beat on medium-high speed until medium peaks form (peaks will stand, but will then droop slightly after a few minutes).

4. Finish Batter: Remove bowl from the mixer. Dust the top of the egg whites with some of the flour mixture and fold in gently with a spatula. Toss the sprinkles into the remaining flour mixture. Fold the sprinkle flour mixture into the batter in two parts, being mindful to fold well each time.

5. Bake Cake: Spoon mixture into an ungreased angel food cake pan (I used a solid bottom non-stick, but a removable bottom works great too). Give a little jiggle before placing in the oven (do not tap on counter and DO NOT SMOOTH TOP, just a little movement. Bake until a wooden skewer inserted in the center comes out clean (about 35 minutes).

6. Cool Cake: Cool cake upside down on a cooling rack for 2 hours before removing from pan. To remove run a knife along the outside and inside parameter of the pan and then release with a shake.

To Serve: Once Cooled, frost cake with Pink Cloud Frosting and decorate the top with your favorite sprinkles (be sparing on the sprinkles). Serve immediately.


Pink Cloud Frosting
(a 7 minute frosting without the double burner…boom)

What you need:
1 egg white
1 cup superfine vanilla sugar* (can substitute regular superfine sugar)
1/2 teaspoon vanilla extract
1/4 teaspoon cream of tartar
2 drops pink food coloring (liquid works best here)

What to do:

In a large mixing bowl, whisk together egg white, sugar, extract and cream of tartar. Pour in 1/2 cup BOILING water and beat on high using a hand mixer until light and fluffy (about 5-7 minutes. Mix in food coloring just until combined.