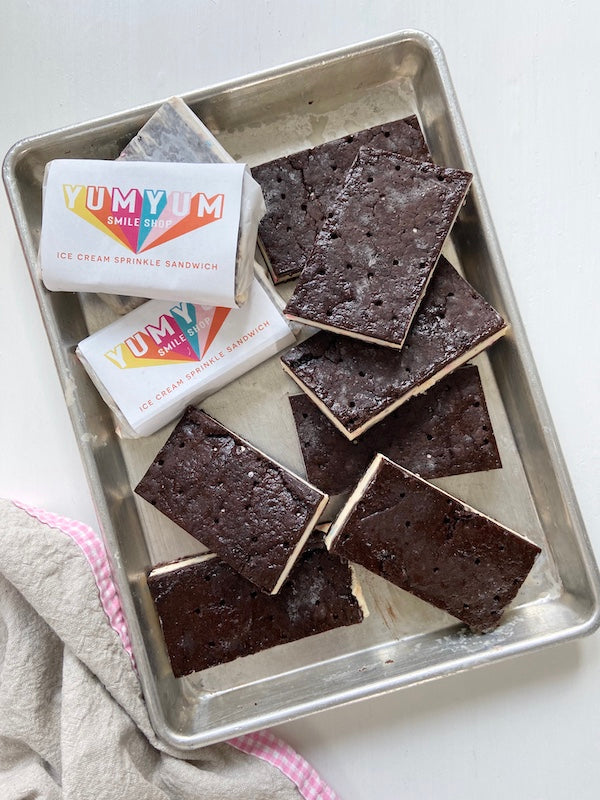 Homemade nostalgia! A perfectly soft and perfectly fudgy chocolate cookie sandwich filled with colorful sprinkle ice cream. Add our downloadable Yum Yum Smile Shop wrapper for more fun! 
Ice Cream Sprinkle Sandwich
makes 12 (4"x2") sandwiches
What you need: 
11/4 cups all-purpose flour
1/2 cup dark cocoa powder
1/2 teaspoon kosher salt
1/2 teaspoon baking powder
6 tablespoons butter, softened
1/4 cup brown sugar
1/2 cup vanilla sugar (can substitute plain sugar)
1/2 teaspoon vanilla extract
2/3 cup whole milk
1/2 gallon good quality vanilla ice cream
1/4 cup Penny Carnival Sprinkles (can sub your favorite sprinkle blend)

What to do: 
1. Preheat oven to 350ºF. Line two 1/4 sheet trays or one half sheet tray with parchment paper and spray with non-stick baking spray. Set aside. 
2. In a large bowl, whisk or sift together the flour, cocoa, salt and baking soda. Set aside. 
3. In the bowl of a standing mixer fitted with a paddle attachment, cream the butter sugars and vanilla together (mixture will still be a bit grainy). 
4. With the mixer on low speed, add half of the dry ingredients; then the milk; then the remainder of the dry ingredients. Scrape down bowl as needed. 
5. Dollop the batter onto your prepared baking trays and use an offset spatula to spread evenly and to the edges. The mixture will be on the thin side. Be sure to make sure it's even everywhere and try to keep the top smooth. 
6. Bake for 10 minutes...just until it loses it's shine. Remove from the oven and allow to cool for 5 minutes. 
7. Use a chopstick and poke the tops of the cookies in neat rows (like an old school ice cream sandwich!). 
8. Remove cookies (still on the parchment) from the pans and allow to completely cool. If you have used one large baking tray, cut the cookie down the middle/short side before removing and allowing to cool. 
9. Once the cookies are completely cool, line one of your quarter sheet trays with wax paper and place one slab of the cookies top down on it and remove the parchment paper. Cover and freeze completely. Cover the other slab of cookie and freeze completely (about 1 hour). 
10. In the bowl of a standing mixer fitted with a paddle attachment, add the hard ice cream and sprinkles. Mix just until the ice cream is the consistency of a very thick soft serve. You don't want it melting, just thick and spreadable. 
11. Working quickly, remove the cookie slabs from the freezer. With the bottom slab still in the frozen baking sheet, spread the sprinkle ice cream evenly over the cookie. Place the other slab on top (having removed the parchment). Wrap and place back in the freezer until completely hard (about 2 hours). 
12. Remove from freezer and use a sharp knife to cut into 4"x2" rectangles. Wrap in parchment paper, glassine or wax paper. Add a fun wrapper (Download our YUM YUM SMILE SHOP WRAPPER) and freeze overnight!